Wearing, Neil and Clarke, Steve (2007) Highfield Service Reservoir to Poaka Beck WwtW Pipeline Cumbria- Topographic Survey and Archaeological Watching Brief. Project Report. OA North. (Unpublished)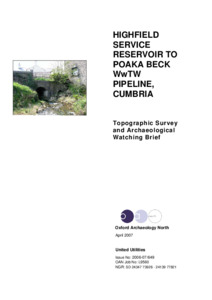 Preview
PDF




Complete_rep_reduced.pdf


Download (4MB) | Preview
Abstract
United Utilities propose the construction of a new water pipeline running from Highfield Service Reservoir to Poaka Beck Wastewater Treatment Works (SD 24347 73926– 24139 77821; Fig 1). Following the results of a desk-based assessment and walkover survey (OA North 2005), the Cumbria County Historic Environment Service (CCHES)recommended that a topographic survey be carried out along the proposed new water pipeline route. A permanent presence watching brief, to be undertaken during topsoil
stripping activities, and the excavation of eight geotechnical test pits along the route, was also recommended.
On the basis of the previous work (OA North 2005), the following sites were selected for topographic survey: Site 04 (mine shafts and track); Site 34 (limekiln, quarries and
track); Site 41 (mill race); Site 59 (ridge and furrow); Site 61 (ditches and possible 'clearance cairns'); and Site 64 (earthworks). Site 46 (mill dam) and Site 49 (quarry)
were additionally subject to photographic recording. The topographic survey took place during May 2006.
The most significant addition to the original programme of survey involved the area around the former Dalton Iron Mine (Site 04), where eight new sites (Sites 66 to 73)were recorded and added to the record, comprising additional extraction scars (Sites 66 to 71), the remains of a building (Site 72), and further quarrying and an associated track (Site 73). The topographic survey emphasised the importance of maintaining an archaeological presence, particularly during any groundworks within the former Dalton
Iron Mine (Site 04), where there was the possibility of encountering building remains.
The watching brief took place between May and October 2006, and the permanent monitoring of the groundworks and geotechnical test pits established that little evidence
for the sites identified in the previous phases survived as archaeologically visible belowground remains. Evidence for probable limestone quarrying (Site 30) and for maintenance of the Lindal Rail Tunnel (Site 61) was recorded.
Actions (login required)