Elsworth, Dan (2002) Abbey Farm Caravan Park, Ormskirk, Lancashire- Watching Brief. [Client Report] (Unpublished)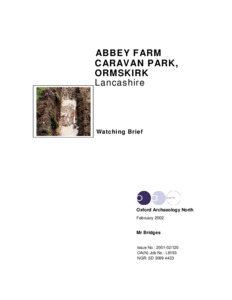 Preview
PDF




Fullreport171109.pdf


Download (1MB) | Preview
Abstract
A watching brief was undertaken by Oxford Archaeology North in October 2001, at Abbey Farm Caravan Park, Ormskirk, Lancashire (SD 3099 4433). The work was commissioned by Mr Bridges, the owner of the caravan park, following the submission of a planning application to erect a new building on the site.
The proposed development area is within the immediate vicinity of the remains of Burscough Priory, which was established in 1189, and in close proximity to several other features of historic importance in the local area. It was therefore required by Lancashire County Archaeology Service (LCAS) that an archaeological watching brief be maintained during the excavation of foundations for the building.
Only a single area was excavated, and only a narrow trench went deeper than the subsoil horizons. Few remains of particular archaeological significance were encountered although two stone linear features with the appearance of culverts were uncovered; however, these were not fully exposed and remain undated. Further features on the site seem to relate to more recent attempts to combat flooding and to improve the ground, a problem which is still to be fully resolved.
Although no dateable structural remains were uncovered, the presence of possible culverts and large pieces of finished stonework do suggest that rubble from the demolition of Burscough Priory, and possible water management features relating to the priory, may survive in the vicinity.
Actions (login required)