Bates, Andrew (2002) Kirkby Thore Pipeline, Cumbria- Watching Brief Report. Project Report. Oxford Archaeology North. (Unpublished)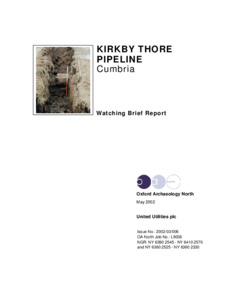 Preview
PDF




L9036-complete report.pdf


Download (31MB) | Preview
Abstract
A watching brief was undertaken, on behalf of United Utilities plc, in September 2001 and February to March 2002, during the laying of two new waste water pipes. The pipelines were excavated in the fields to the south-east of the village leading down to the Trout Beck (national grid references NY 6390 2545 - NY 6410 2570 and NY 6360 2525 - NY 6360 2330). The area of the groundworks is in the immediate vicinity of the Roman fort of Bravoniacum and its associated extramural settlement, recorded in the County Sites and Monument Record (SMR reference 2800) and protected as a Scheduled Monument (SM 11603).
Close to the Trout Beck, the watching brief revealed a series of fluvial deposits associated with previous courses of the river. The stagnogley soils located to the north of these deposits in Trench 1, layers 12 and 13, contained Roman material dating from the second to the fourth centuries, presumably derived from activity upslope relating to the Roman fort and extramural settlement; unfortunately, the stratigraphical relationship between these layers and the riverine deposits close to the Trout Beck was not entirely resolved. The stagnogley soils located to the north of the riverine deposits in Trench 2 produced no finds.
On the higher ground in Trench 1 away from the Trout Beck, little Roman archaeology or pottery, was located. The exception was a likely fence alignment, 26, which had been replaced by a shallow ditch, 25; the secondary fill of this later feature contained a sherd of probable fourth century Crambeck ware. The lack of evidence for any buildings, the generally small amount of finds for the area examined, and the discovery of a single possible boundary feature, is suggestive of an area given over to agricultural purposes rather than the activities that one would expect in an extramural settlement associated with the Roman fort.
Only two features were located dating to the post-Roman period. The first was the mill race associated with the corn and saw mill (LUAU 2001, site 6) in the village, which was crossed by both Trenches 1 and 2. The second feature was a culvert of unknown date, although likely to be associated with either the medieval or post-medieval periods. Located in the eastern half of Trench 1, this was seen to be running towards the Trout Beck and was almost certainly associated with field drainage.
Actions (login required)