Webb, Robin (2015) Land at 22 Old Lynn Road, Wisbech. [Client Report] (Submitted)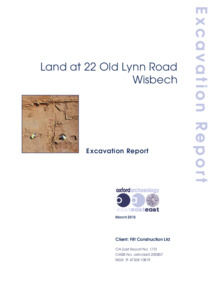 Preview
PDF




WISOLR15_Report_1731_LR.pdf


Available under License Creative Commons Attribution Share Alike.
Download (1MB) | Preview
Abstract
Following an archaeological evaluation in 2013, a 184m² area was excavated on the site of a former garage at 22 Old Lynn Road, Wisbech, Cambridgeshire. The work took place between the 13th and 15th of January 2015. The site was formerly in the parish of Walsoken, within the county of Norfolk.
The excavation area covered the southern end of the development plot and revealed three pits, a ditch and a natural hollow. The site had been built up with modern layers so that the natural mudflats and archaeological features were not encountered until a depth of 1.3m below the surface. At this depth there was still contamination from diesel (from the former garage) that restricted the area of interest to the southern two thirds of the opened area.
The features showed intermittent occupation of the area with alternating deposits of burnt material and flood silts.
The earliest material was an Early Roman brick-like pedestal base from a pit on the western side of the excavation area. Towards the eastern side of the site, there was evidence of Late Saxon to early medieval activity within the vicinity of the site with a spindle whorl and a handle from a Stamford ware spouted pitcher being recovered. However, most of the material on the site is likely to have been deposited in the 12th to 13th centuries.
The recorded features and the material recovered from them are most likely to relate to occasional backyard activity from plots fronting onto either Old Lynn Road (to the north) or Kirkgate Street (to the east). There was also some briquetage that is likely to be redeposited rather than from in situ salt production.
Actions (login required)