Croxson, Nick and Sharon, Cook and Weaver, Steven Valentines Park Ilford London Borough of Redbridge. [Client Report] (Unpublished)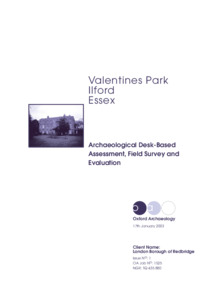 Preview
PDF




ILVP02.pdf


Download (71MB) | Preview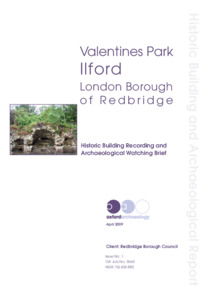 Preview
PDF




ILVP07.pdf


Download (11MB) | Preview
Abstract
Valentines Park in the London Borough of Redbridge has undergone a wide programme of
restoration and regeneration partially funded by a grant from the Heritage Lottery Fund. The
work, which was undertaken in 2007-8, concentrated principally on areas in the historic 18thcentury
core of the site towards the northern end of the current Valentines Park. Oxford
Archaeology was commissioned to record the standing historic structures, including the walls of
the Kitchen and Parterre Gardens, the Dovecote, the Alcove Seat, the Grotto, the Cottage, the
Granary and Jacobs Well. In addition a watching brief was also maintained during various
elements of the regeneration work that caused ground disturbance in the historic gardens. The
purpose of this work was to provide detailed records of the parks surviving archaeological
features in order to provide information on their construction and phasing.
As well as creating a record of the structures prior to the restoration the work has also
increased our understanding of the park and its individual features. The work has shown (or
suggested) that the upper level of the Dovecote was probably only added in the 1860s, as a
conversion of an existing garden building, and that the uppermost level of some of the walls in
the walled gardens were secondary additions, albeit probably very early raisings of the
incompleted initial construction. The work has also revealed possible evidence of a heated wall
in the Kitchen Garden and confirmed that the south-west wall of the 19th-century cottage
incorporated the earlier, 18th-century wall from the Kitchen Garden. The below-ground
watching brief has identified a number of features from the park including culverts, walls from
probable former paddock buildings and evidence of a possible blacksmiths.
An archaeological desk-based assessment and programme of archaeological
field investigation, comprising topographical survey and evaluation, were
carried out by Oxford Archaeology (OA) on behalf of the London Borough
of Redbridge within Valentines Park, Ilford. The purpose of the
archaeological works was to provide further detail regarding the Parks
archaeological potential and to record, where possible, surviving elements
of the eighteenth century gardens to provide information regarding their
construction and state of preservation to inform a proposed programme of
reinstatement. The desk-based investigations have identified that the area
currently enclosed by the park today has the potential to retain
archaeological sites dating from the early prehistoric period onwards.
Topographical survey and evaluation conducted within the historic core of
the park has provided detailed information regarding the survival,
construction and development of the garden landscape from the earlier
eighteenth century Rococo garden to the present.
Actions (login required)