Jarosz-Blackburn, Rebecca (2015) An Archaeological Strip, Map & Record and Trench Evaluation Semer Borehole Pipeline Nedging-with-Naughton Suffolk: Phase 1. [Client Report] (Unpublished)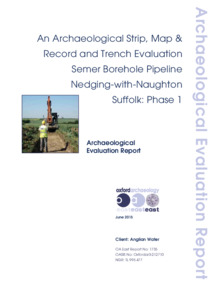 Preview
PDF




XSFSEM15_Report_1735_LR.pdf


Available under License Creative Commons Attribution Share Alike.
Download (1MB) | Preview
Abstract
Between the 15th and 22nd January 2015, Oxford Archaeology East conducted a Strip, Map & Record and Trench Evaluation at land adjacent to Hadleigh Road, 800m north of the village of Semer, Suffolk. This work was undertaken on behalf of Anglian Water in advance of the construction of a new water pipeline.
A 10m wide topsoil strip was completed in the first instance, revealing the presence of subsoil covering approximately half of the stripped area (c. 1750m2) towards the SE end of the site. A sample of c.10% of this area was evaluated (174m2) by the excavation of two trial trenches. The remaining area, upslope to the north-west, was found to have no subsoil; consequently no further trial trenching was required.
The archaeological work revealed no significant archaeological features. A single small pit was recorded within Trench 1, though it contained no finds; the remainder of the archaeological investigation in this part of the site concentrated on the test pitting and recording of naturally deposited sands and silts. Many of these deposits contained struck flints dating from the Mesolithic to the Iron Age periods, as well as a small quantity of Neolithic pottery. An overlying colluvial subsoil layer also contained a relatively large quantity of struck flints, with some pottery also recovered. Five test pits were excavated in this material, with struck flints recovered from each one. The presence of flints and pottery in the subsoil and natural deposits towards the south-east end of the site can probably be attributed to a combination of colluvial deposits from further up the slope and fluvial deposits from the river valley.
No subsoil was present for the north-west half of the site, much of which was on sloping ground. One post-Medieval ditch (probably associated with the adjacent road) was recorded and partially excavated in this area, however no finds or features of an earlier date were present.
Oxford Archaeology East returned to the site in April 2015 for Phase 2 of the works; a separate report covering this phase has been produced.
Actions (login required)