Gill, Jonathan Pillbox by Bath Road Woolhampton West Berkshire. [Client Report] (Unpublished)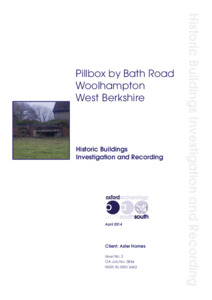 Preview
PDF




WOLPBX14_PdfA.pdf


Download (6MB) | Preview
Abstract
The current project has recorded a Type 28A pillbox, to the east of Woolhampton,
prior to its removal in a residential development. The pillbox was constructed in the
summer of 1940 (probably July) during a desperate attempt to defend against an
anticipated attempted invasion from Nazi Germany. The pillbox was located on the
GHQ Line Blue, a section of the main, fixed, defensive stop line that stretched from
Bristol, beneath London and up to the fens.
The pillbox would have been supplied with a 2-pounder anti-tank gun and the
structure also incorporated a side infantry chamber that allowed for additional small
arms fire. The main gun embrasure faced south-west, overlooking a field gently
sloping down towards the railway line and the River Kennet, and it would have
worked in tandem with a series of other pillboxes in the area.
The structure provides a reminder of a brief but hugely significant period in 20thcentury
British history, when the country appeared to be on the brink of invasion by
Germany. The brief period when the pillboxes were constructed coincided with the fall
of France, the evacuation of Dunkirk and the early stages of the Battle of Britain.
Actions (login required)