Moan, Patrick (2014) Old Stratford to Kiln Farm Water Main. [Client Report] (Unpublished)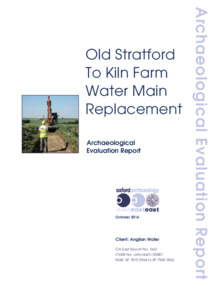 Preview
PDF




XNNOSK13_Report1667_LR .pdf


Available under License Creative Commons Attribution Share Alike.
Download (1MB) | Preview
Abstract
Between 15th September and 17th October 2014 Oxford Archaeology East carried out an evaluation along the route of a new water main running between Old Stratford, Northamptonshire (SP 7875 3964) and Kiln Farm, Milton Keynes (SP 7960 3962). In total, 21 trenches were excavated along the route. Within these trenches, Romano-British remains were found on the western side of the route in Northamptonshire, beneath the footprint of a temporary compound. The remains consisted of ditches, gullies and pits. Early to Mid Roman Pottery and lead artefacts from the features indicate relatively high status and possibly ritual activity within the vicinity. Trenching along the rest of the pipe route indicated the land had seen little activity that survived in the archaeological record.
Within the pipe route in Northamptonshire, two fields were found to contain surviving ridge and furrow earthworks. A topographic survey was undertaken within these fields to preserve the furrows by record, and give guidance to their reinstatement.
The stripping of topsoil was monitored along the route of the pipeline where it ran parallel with the A422 in the westernmost part of the route. No archaeological features were recorded, although a single Roman coin and a sherd of greyware pottery were recovered from the topsoil.
Actions (login required)