Clarke, G (2015) Land East of Lancewood, 32 Dowgate Road, Leverington. [Client Report] (Unpublished)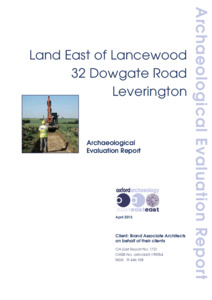 Preview
PDF




Report1721_LRv2.pdf


Available under License Creative Commons Attribution Share Alike.
Download (1MB) | Preview
Abstract
Between 16th and 19th December 2014, Oxford Archaeology East (OA East) carried out an archaeological evaluation on Land East of Lancewood, 32 Dowgate Road, Leverington, Cambridgeshire. The area evaluated covered approximately 3.5 hectares and lay within the historic parish of Leverington. A total of four evaluation trenches (two 20m x 1.5m, one 16.5m x 1.5m and one 10m x 1.5m) were opened.
The excavation confirmed the presence of medieval and post-medieval remains on this site. This included four substantial boundary ditches and two pits in Trenches 2 and 3 relating to the medieval activity with three minor boundary ditches and five pits in Trenches 1, 2 and 3 representing the post-medieval activity. Demolition layers were encountered in Trench 4 containing much pottery, brick and tile dating from the mid 11th to 19th centuries. These are probably spreads of material relating to the continued remodeling of Lancewood house and grounds over this period.
The post-medieval remains are probably associated with Lancewood house and the previous 17th century plot on which it was built. Domestic medieval remains have also been encountered on the site including the remains of a hearth/oven and associated boundary ditches. A quantity of domestic medieval pottery has been recovered whose date range suggests occupation activity and rubbish deposition close to the excavation from the mid-11th century through to the later medieval period.
Actions (login required)