Wild, Chris (2015) Hathersage Road, Ardwick, Manchester - Excavation Report. [Client Report] (Unpublished)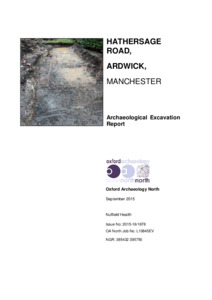 Preview
PDF




Hathersage Road, Manchester_Final Excavation Report.pdf


Download (8MB) | Preview
Abstract
Nuffield Health is developing proposals for a new private hospital and integrated
well-being facility on the site of the former Manchester Metropolitan University
(MMU) Elizabeth Gaskell Campus at Hathersage Road, in the Ardwick area of
Manchester (centred on NGR 385432 395750). The construction works required for
the proposed development will necessitate considerable earth-moving works, which
will inevitably have a negative impact on any buried archaeological remains.
The archaeological potential of the site was highlighted by a desk-based assessment,
which showed that the site had been occupied during the eighteenth and nineteenth
centuries by a farmhouse and associated barn. In the light of the conclusions drawn by
the desk-based assessment, Oxford Archaeology North was commissioned by
Nuffield Health to carry out a programme of archaeological evaluation, carried out in
May 2015. The evaluation trenching revealed that well-preserved remains, probably
associated with the farmhouse and barn buildings, survived in-situ, although the
limited nature of the trenching meant that little information about the form or
character of either structure was obtained. Following consultation with the Greater
Manchester Archaeological Advisory Service, OA North was further commissioned to
undertake the stripping of the modern surfacing from across the full footprint of the
farmhouse, in order for the extent, character and significance of the buried remains to
be understood fully. This work was undertaken in July 2015.
The footprint of the farmhouse, identified as Blackstake Farm on nineteenth-century
Ordnance Survey mapping, was excavated in two areas due to live service cables.
Following the removal of a rough brick surface identified in the earlier evaluation,
several original features of the farmhouse were observed, cut into the natural plastic
clay, at a shallow depth of only approximately 0.3m below the modern ground level.
These represented the foundational remains of the farmhouse, which appeared both
stylistically and from the ceramic assemblage to have been of probable late
seventeenth-century date, and comprising a two-unit house built in English bond. An
internal sunken larder in the north-eastern corner of the structure may have been
placed adjacent to the main doorway, and was almost certainly below the staircase to
the upper floor, suggesting that the substantial full-brick thickness cross-wall between
the large kitchen and smaller parlour housed an inglenook fireplace.
Actions (login required)