Gardner, C and Frudd, Andrew (2015) Furnace Hill, West Bar, Sheffield - Archaeological Excavation Assessment Report. Project Report. OA North. (Unpublished)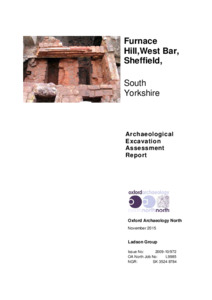 Preview
PDF




Furnace Hill West Bar_ENTIRE.pdf


Download (2MB) | Preview
Abstract
Esharoth UK Ltd secured planning permission (06/04556/FUL) in 2006 to redevelop
a site and construct residential apartments at the corner of Furnace Hill and Gibraltar
Street in the West Bar area of Sheffield city centre (centred on NGR SK 3524 8784).
Until then, the site housed a twentieth-century office and warehouse building,
occupied by Sheffield Wholesale Linoleum Co Ltd. An archaeological desk-based
assessment of the site was undertaken by Archaeological Research and Consultancy at
the University of Sheffield (ARCUS) in June 2006, which concluded that potential
below-ground remains of high local/regional significance might survive within the
redevelopment area. The South Yorkshire Archaeology Service therefore
recommended that a programme of intrusive archaeological investigation was
implemented in advance of redevelopment.
On behalf of Esharoth UK Ltd, CgMs Consulting commissioned Oxford Archaeology
North (OA North) to conduct the archaeological investigation prior to redevelopment.
The overriding aims of this excavation were to provide a detailed record of belowground
remains and, in turn, to allow informed decisions to be made to the scope and
form of any further archaeological work required at this site. Following the
completion of on-site works, the development fell into abeyance, until the site was
recently acquired by Ladson Group, which has commissioned the completion of this
report.
The earliest archaeological remains uncovered during the excavation dated to the
eighteenth century and were associated with a steel works owned by Samuel Shore,
which is known to have occupied the site during this period. These remains were very
fragmentary, but included a boundary wall, a cobbled yard, and the vestiges of brick
walling. Although these remains were located, no structural features associated with
Samuel Shore's cementation furnaces survived within the excavated area, although
such features are known to have been present at this early steel works.
Actions (login required)