Webster, Michael (2016) Lower Brook Street, Ipswich. [Client Report] (Unpublished)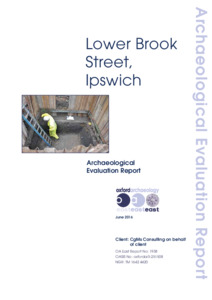 Preview
PDF




Report 1938_LR.pdf


Available under License Creative Commons Attribution Share Alike.
Download (1MB) | Preview
Abstract
Between the 17th and 20th May 2016, Oxford Archaeology East carried out an archaeological evaluation at Lower Brook Street, Ipswich, Suffolk. Two test pits were located within an area currently used as a car park to provide information regarding the potential survival and character of any archaeological remains that may survive here. Test Pit 1 found a 19th century cellar with and in-situ asphalt floor located at a depth of 2.3m, the cellar had been subsequently backfilled with layers of brick and concrete rubble in the 1960s.
Test pit 2 uncovered natural sands and gravels at a depth of 2.3m below ground level. Above the natural was a two metre deep sequence of soil layers, probably resulting from dumping and cultivation from the late medieval period to the early 19th century. The soils contained pottery and tile ranging from the medieval to the early post-medieval period in date. Animal bones, oyster shells and charred seeds were found as well as a small number of human bone fragments.
Evidence for one or more possible garden structures of post medieval date was found. A 19th century brick wall is probably the remains of one of the industrial buildings that occupied the site during the 19th and 20th centuries.
Item Type:
Client Report
Uncontrolled Keywords:
archaeological test pitting, archaeological evaluation, suffolk, ipswich, medieval, post-medieval, late medieval, garden soil, pottery, animal remains, cellar, modern, floor
Subjects:
Geographical Areas > English Counties > Suffolk
Period > UK Periods > Medieval 1066 - 1540 AD
Period > UK Periods > Modern 1901 - present
Period > UK Periods > Post Medieval 1540 - 1901 AD
Divisions:
Oxford Archaeology East
Depositing User:

Chris Faine

Date Deposited:
05 Jul 2016 13:24
Last Modified:
05 Jul 2016 13:24
URI:
http://eprints.oxfordarchaeology.com/id/eprint/2866
Actions (login required)