Nicholls, Kathryn (2015) Land East of Randalls Farm, Barway, Soham. Project Report. Oxford Archaeology Ltd., Bar Hill. (Unpublished)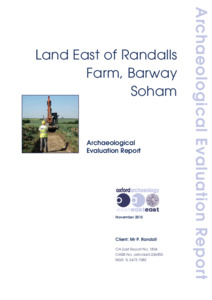 Preview
PDF




SOHBAR15_Report_1854_LR.pdf


Available under License Creative Commons Attribution Share Alike.
Download (1MB) | Preview
Abstract
On the 13th and 14th of October 2015 Oxford Archaeology East undertook an evaluation at land to the east of Randall's Farm, Barway, Soham (TL 5473 7580). A single trench measuring 40m was excavated across the proposed development area. Two linear ditches with an east-north-east to west-south-west alignment were
uncovered although their fills yielded no finds. The ditches do not correlate with any boundaries depicted on historic mapping from the late 19th or 20th centuries and
are therefore probably not modern. A correlation with the present day field boundaries means a post-medieval date is possible but without dating evidence this cannot be confirmed. No other features were encountered.
Actions (login required)