Fletcher, Taleyna (2010) Bluntisham Baptist Church Sunday School. [Client Report] (Unpublished)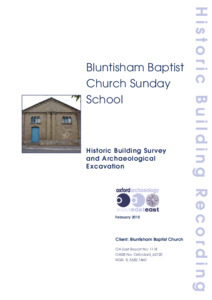 Preview
PDF




Report_1118_LR.pdf


Available under License Creative Commons Attribution Share Alike.
Download (1MB) | Preview
Abstract
On 15th July 2009, OA East conducted a historical building survey at the former Sunday School building, on the site of the Bluntisham Baptist Church (also known as The Meeting House) on the High Street in Bluntisham. The site is owned by Bluntisham Baptist Church and is the subject of planning consent for development to include an extension to the southern side of the existing building plus minor internal alterations.
This work was carried out in response to a brief issued by Andy Thomas, Cambridgeshire County Councils Development Control Officer. The brief required that a historic building survey was carried out on the existing building to meet the requirements of English Heritages building survey at Level 1.
Four main phases of development were identified during the survey of the Sunday School building; construction of the original Sunday School, an extension on the eastern side of the main building dated 1887 on datestone together with a remodelling of the interior to commemorate the centenary of the first chapel, the addition of an external chimney stack on the southern side as well as a small single room extension, perhaps for the storage of coal and finally internal alterations to include a kitchen and storage facilities within the eastern extension together with the insertion/replacement of a number of windows.
Additional documentary research at Huntingdon Records Office has revealed that the earliest part of the building, the main hall, was constructed in 1842. This date is significant in that most sources have relied on the datestone plaque of 1887 and dated interior carvings to date the building which, it is now clear, was constructed 45 years previously.
The survey noted a number of interesting internal features including an elaborately carved screen, fire surrounds and ceiling detail which, according to historical sources were all the work of John Wheately, a local carpenter to whom a memorial plaque in the Sunday School building is dedicated. These carvings and patterns echo designs and craftsmanship also visible inside the Baptist Chapel.
Between 20th and 24th July, OA East returned to the site to undertake an archaeological excavation of the areas east and south of the Sunday School building. Burial plots and pits were discovered in both areas along with modern disturbance and truncation. All features in both areas were considered to be below the depth that would be disturbed by development and consequently it was not deemed necessary to excavate any of the features found. The excavation brief produced a small pottery assemblage of 28 sherds, from four contexts which represent the topsoil and subsoil from each trench. A single sherd of Late Iron Age Age pottery represents the earliest material recovered. The finds are a mix of medieval and post-medieval pottery, alongside which were recovered small amounts of disarticulated human skeletal remains which were returned to the Baptist
Actions (login required)