Ladd, Stuart (2017) Land at Black Peak Farm, Melbourn, Cambridgeshire. [Client Report] (Unpublished)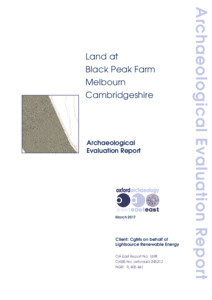 Preview
PDF




MELBLA14 Report 1698_LR.pdf


Available under License Creative Commons Attribution Share Alike.
Download (7MB) | Preview
Abstract
In October 2014, Oxford Archaeology East undertook an evaluation following geophysical survey at Black Peak Farm, Melbourn, Cambridgeshire (TL 405 441). In total 0.4ha of trenching was opened. This was followed by three further investigatory trenches (0.13ha in total) and a watching brief along some 6km of service trenches. The work was commissioned by CgMs Consulting on behalf of Lightsource Renewable Energy Ltd.
The site's eastern boundary follows the Bran Ditch, a 7th-century earthwork crossing the zone of the Icknield Way.
Plough-truncated Bronze Age barrows were identified. A near-by pit was excavated, containing pieces of Beaker pottery.
One ditch in the west of site contained a Late Bronze Age/Early Iron Age pot in its upper fill. This followed the general site alignment, northwest-southeast but could not be placed in context, lying at some 180m west of the Bran Ditch.
A number of parallel undated and Early to Middle Iron Age boundary ditches were found extending northwest from the Bran Ditch's main line. This zone of 'precursor' ditches was shown to form not just a boundary across the Icknield Way but potentially also a route way from the southerly chalk ridge towards the springs and wetlands by Black Peak. It also demonstrated the suspected prehistoric origins of the line followed by the Bran Ditch.
An Early or Middle Iron Age ditch crossed the south of site, cutting through one barrow ditch. Running perpendicularly to the precursor ditch alignment, it may be contemporary with one of the ditches on that line.
In the far northwest of the evaluation area were a series of Early Iron Age enclosures and early Roman ditches associated with the springs.
In the centre-east of site was an early Roman settlement consisting of post built structures within a co-axial system of enclosures. The precursor ditches formed one axis (probably a lane at this time), with Ashwell Street forming the other axis, extending eastwards out of the evaluation area. It persisted to the 4th Century when two enclosures south of Ashwell Street were re-established with much deeper ditches, either side of the lane. The junction, likely the core of the settlement, had by this point eroded and been reinforced with flint cobbling.
The watching brief identified an area of probable Roman field system in the northwest of the site.
An undated southerly route branching from Ashwell Street was identified by geophysics, crossing the Bran Ditch around the site of a Saxon execution cemetery excavated in the early 20th Century. This route survived until parliamentary enclosure in the early 19th Century.
The modern field system was set out by enclosure in the 19th Century. The construction during the second world war and then contraction of Fowlmere Airfield has also left its mark on the site with part of the perimeter track and gun testing facility foundations falling within the evaluation area.
Item Type:
Client Report
Uncontrolled Keywords:
archaeological evaluation, archaeological watching brief, cambridgeshire, melbourn, black peak, bran ditch, icknield way, field boundary, iron age, roman, bronze age, modern, barrow, settlement, airfield
Subjects:
Geographical Areas > English Counties > Cambridgeshire
Period > UK Periods > Bronze Age 2500 - 700 BC
Period > UK Periods > Iron Age 800 BC - 43 AD
Period > UK Periods > Modern 1901 - present
Period > UK Periods > Post Medieval 1540 - 1901 AD
Period > UK Periods > Roman 43 - 410 AD
Divisions:
Oxford Archaeology East
Depositing User:

Chris Faine

Date Deposited:
27 Mar 2017 07:47
Last Modified:
27 Mar 2017 07:47
URI:
http://eprints.oxfordarchaeology.com/id/eprint/3176
Actions (login required)