Rees, Gareth and Webster, Michael (2015) Iron Age and Roman Ditches, Medieval Cultivation and a Post-Medieval Brick Structure at Wenny Road, Chatteris. [Client Report] (Unpublished)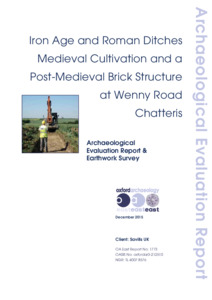 Preview
PDF




CHAWEN15 _1773_LR.pdf


Available under License Creative Commons Attribution Share Alike.
Download (2MB) | Preview
Abstract
Two phases of archaeological evaluation and an earthwork survey were conducted by Oxford Archaeology East on land between the A142 and Wenny Road, Chatteris (centred on TL 4003 8567) from the 11th May and 23rd June and 9th to 11th November 2015,.
The site was divided between eight fields varying in land use between pasture, grazing land, arable and recreational ground. The evaluation work was carried out in two phases: phase 1, Fields 1-6; and phase 2, Fields 7 and 8. The earthwork survey was conducted in advance of the evaluation in order to define areas of well-preserved ridge and furrow earthworks. Trial trenches were targeted on anomalies identified by a geophysical survey conducted in January 2015, and were positioned to avoid well preserved areas of ridge and furrow.
The earthwork survey identified the remains of medieval ridge and furrow cultivation in Field 1 and Field 2, located at the west of the proposed development area. The best preserved earthworks were located in the western half of Field 1, covering an area of 2.50ha.
A total of 60 trenches (2894m) were excavated across eight fields (1-8). Dated archaeological remains, other than furrows, were uncovered in only five trenches (2, 39, 40, 41and 59). Undated features were uncovered in a further four trenches (10, 11, 33 and 34).
The most significant features dated to the Early Iron Age, Roman, and post-medieval periods. Two Iron Age gullies at the west side of Field 7 contained sherds and fragments of Early Iron Age pottery. A Roman ditch at the west of Field 3 contained pottery and a loom weight fragment, which indicate that a settlement dating to the Late Iron Age or Roman period may be located nearby. A few sherds of Roman pottery recovered from the topsoil at the north of Field 1 may also have derived from Roman activity in this area.
Evidence for medieval activity consisted predominantly of extensive ridge and furrow earthworks that are preserved in Fields 1 and 2. Early and late medieval pottery was also recovered from the central area of Field 1 as well as the north of Field 4, where it may result from midden spreading on to the fields. A surface constructed from post-medieval bricks at the east of Field 2 may have been part of an agriculture building.
Two concentrations of 16th-18th century artefacts, including two 17th century knives, were located in the centre of Field 1 and Field 4, whilst a small ditch in Trench 2 may date to the early post-medieval period. The relatively high quantity of material dating to this period may indicate of increased activity in this area around the Civil War and the construction of Ireton's Way. No direct evidence of military occupation was found.
Item Type:
Client Report
Uncontrolled Keywords:
archaeological evaluation, cambridgeshire, chatteris, earthworks survey, iron age, roman, medieval, post-medieval, cultivation, brick, structure, pottery, knife, ridge and furrow, civil war, ireton's way
Subjects:
Geographical Areas > English Counties > Cambridgeshire
Period > UK Periods > Iron Age 800 BC - 43 AD
Period > UK Periods > Medieval 1066 - 1540 AD
Period > UK Periods > Post Medieval 1540 - 1901 AD
Period > UK Periods > Roman 43 - 410 AD
Divisions:
Oxford Archaeology East
Depositing User:

Chris Faine

Date Deposited:
06 Apr 2017 08:07
Last Modified:
06 Apr 2017 08:07
URI:
http://eprints.oxfordarchaeology.com/id/eprint/3180
Actions (login required)