Fletcher, Taleyna (2009) The Talbot Hotel, Oundle, Northants. [Client Report] (Unpublished)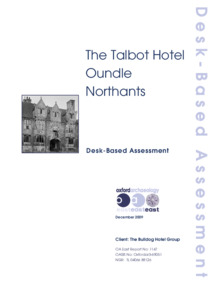 Preview
PDF




Report1147LR.pdf


Available under License Creative Commons Attribution Share Alike.
Download (3MB) | Preview
Abstract
In November 2009 Oxford Archaeology East were commissioned by the Bulldog Hotel Group to undertake a desk-based assessment of the Talbot Hotel in Oundle, Northamptonshire. The assessment has been undertaken as part of a pre-planning application to make alterations to the existing Grade I listed former medieval coaching inn.
The Talbot Hotel is located on New Street which lies within the core of the historic market town. It is widely believed that the hotel was redeveloped in 1624 and documented in many historical works as having made use of a staircase and windows from the nearby Fotheringay Castle which had fallen into decline around that time. What is less well documented or researched however, is the existence of an inn, its size or associated buildings on the site prior to this date.
Architects and historians appraisals suggest that a hotel existed on the site prior to the current Talbot and an early timber-framed building located within the south wing may represent the earliest phase due to the nature of construction and the material used which stands out in the local oolitic stone setting.
Despite research and collation of primary and secondary sources this study was unable to find evidence of an earlier building on the site, other than referenced by name, prior to 1624. Many sources were located, mostly in the hands of local collections which are invaluable for the study of the post-medieval site, however only a detailed survey and possible dendrochronology of the existing timber frame would confirm the existence of the coaching inn prior to the mid seventeenth century.
This assessment aims to define the historical development of the site together with the archaeological potential of the land likely to be affected by any below ground development. It has been compiled by the author in response to a request by the current hotel owners prior to alterations.
Actions (login required)