Champness, Carl and Strutt, Ashley Eton College Courtyard Resurfacing Works Windsor, Berkshire Phases 1 & 2. [Client Report] (Unpublished)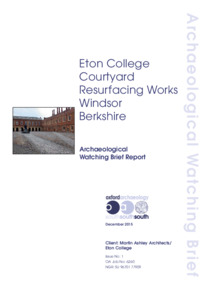 Preview
PDF




ETONSY15.pdf


Download (4MB) | Preview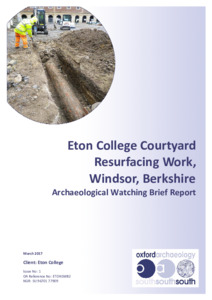 Preview
PDF




ETONSY15_phase2.pdf


Download (3MB) | Preview
Abstract
Phase 1
In August 2015 Oxford Archaeology undertook an archaeological watching brief for Martin Ashley Architects on behalf of Eton College, Windsor during resurfacing works of the main courtyard.
The work was found not to have impacted beyond the sandy foundations of the modern cobbled surface, leaving buried deposits unaffected. The only archaeological feature identified was the red brick foundations of the Grade I listed Eton College Chapel. These foundations were only revealed to the first brick course and following recording, were left undisturbed and reburied.
Based on the results of the trials holes and their recorded impacts, the main phase of resurfacing of the courtyard is unlikely to impact upon archaeological deposits.
Phase 2
The remains of a brick culvert drainage system was found during the watching brief and it is known that a number of these were installed in the 19th century. The
installation of the drains, as well as pipes for the heating system, will have previously directly impacted upon any underlying archaeological deposits. Evidence
of several phases of collapse and repair of the drainage culverts were identified.
Evidence for potentially earlier red brick built drains were also seen within the monitoring work of the eastern area of the courtyard but could not be fully characterised due to the small size of these investigations.
During these excavations the foundations of a postulated colonnade or loggia was found along the north side of the courtyard. Later resurfacing work in this area failed
to reveal any remains of the columns supporting the roof. The foundations were identified along the length of the courtyard running east to west and aligned with the
first arch of the later western colonnade. The position of the foundations and potential date of the bricks are consistent with a postulated 17th-century colonnade or loggia associated with the Lower School.
During the lifting of the flagstone paving a stoneware bottle was discovered in a small pit just inside the present colonnade in the south-west corner of the courtyard.
The colonnade forms the western side of the courtyard and the Henry VI chapel on the southern side. When examined, the otherwise empty bottle was found to contain a group of seven early stone gaming marbles. The bottle's maker's mark suggests a manufacture date between 1831-1834, probably 1832-1834 – the middle years of King William IV's reign. The nature of the find seems to suggest that they were deliberately buried by a schoolboy. This is a rare and fine example of an early 19th-century toy found from a closely dated context that is worthy of display within a museum.
Actions (login required)