Fletcher, Taleyna (2010) Archaeological Investigations into the Deterioration of Stonework within the Dining Room at Anglesey Abbey House, Cambridgeshire. [Client Report] (Unpublished)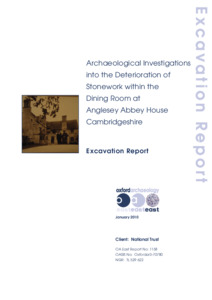 Preview
PDF




Report1158_LR.pdf


Available under License Creative Commons Attribution Share Alike.
Download (2MB) | Preview
Abstract
In early January 2010, Oxford Archaeology East was commissioned by the National Trust to carry out an investigation within the dining room at Anglesey Abbey house, in the parish of Lode, Cambridgeshire.
Anglesey Abbey house is converted from the remains of an Augustinian Priory and the present dining room is in the medieval undercroft. The vaulting for this undercroft is supported on two pillars. In recent years some spalling of these pillars has been observed which may be caused by rising damp. The purpose of this archaeological investigation was to help identify the cause of spalling by excavating on one side of the foundations of one of the pillars, below the present modern floor and specifically to locate a possible raised water table.
Excavation was possible to a depth of 0.60m as space was restricted once the original 13th century foundations were encountered and exposed. Subsequently, a hand operated auger was used to bore into the soils for a further 40cm. The water table was not encountered and no other evidence for the cause of the spalling was identified within this investigation.
Actions (login required)