Cox, Nicholas (2017) Chewells Lane, Haddenham, Cambridgeshire. [Client Report] (Unpublished)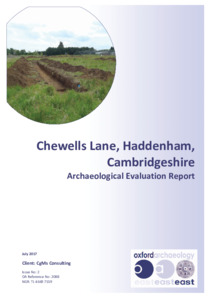 Preview
PDF




Report_2088_HADCHE17_LR.pdf


Available under License Creative Commons Attribution Share Alike.
Download (4MB) | Preview
Abstract
Between the 15th and 18th of May 2017 Oxford Archaeology East carried out an archaeological evaluation on land to the east of Chewells Lane, Haddenham, Cambridgeshire (TL 4669 7559). The work represented the first phase of evaluation trenching. Parts of the site could not be evaluated due to the presence of large greenhouses, which were still in use at the time of the fieldwork.
A total of eight 30m trial trenches were excavated across the proposed development area. The earliest activity on the site was dated as Late Bronze Age to Early Iron Age (c. 1100-350 BC) with features including a group of postholes and two small pits.
A buried soil was present below the subsoil in the north of the site (Trenches 3 – 8), both sealing and being cut by archaeological features. It appeared to extend across the entirety of the area covered by Trenches 3 – 8 and contained a small number of pottery sherds dating between the Late Bronze Age and Middle Iron Age.
Several Middle Iron Age features (c. 350-50 BC) were identified truncating the buried soil. The features were predominantly ditches, which formed part of a field-system in Trenches 4, 5, 6 and 8.
There was also an Early Anglo-Saxon presence on the site (c. AD 450-650) evidenced by a large pit in Trench 7 and two large circular loom-weights (one complete and one semi-complete) found in Trench 6.
In the south-western corner a series of five truncated east to west aligned furrows were identified.
Item Type:
Client Report
Uncontrolled Keywords:
archaeological evaluation, cambridgeshire, haddenham, iron age, middle iron age, pottery, iron age pottery, bronze age, late bronze age, bronze age pottery, loomweight, loom weight, anglo-saxon, early medieval, furrow
Subjects:
Geographical Areas > English Counties > Cambridgeshire
Period > UK Periods > Bronze Age 2500 - 700 BC
Period > UK Periods > Iron Age 800 BC - 43 AD > Early Iron Age 800 - 400 BC
Period > UK Periods > Early Medieval 410 - 1066 AD
Period > UK Periods > Iron Age 800 BC - 43 AD
Period > UK Periods > Bronze Age 2500 - 700 BC > Late Bronze Age 1000 - 700 BC
Period > UK Periods > Iron Age 800 BC - 43 AD > Middle Iron Age 400 - 100 BC
Divisions:
Oxford Archaeology East
Depositing User:

Chris Faine

Date Deposited:
15 Aug 2017 08:35
Last Modified:
15 Aug 2017 08:35
URI:
http://eprints.oxfordarchaeology.com/id/eprint/3274
Actions (login required)