Anker, Katrina and Biddulph, Edward and Booth, Paul and Champness, Carl and Cotter, John and Donnelly, Mike and Giorgi, John and Poole, Cynthia and Scott, Ian and Strid, Lena and Slater, Georgina and Lucas, Sarah Orbital Park Ashford Kent. [Client Report] (Unpublished)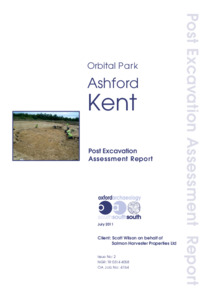 Preview
PDF




ASORB10_PXA.pdf


Download (4MB) | Preview
Abstract
An archaeological strip, map and sample investigation took place between
September and November 2010 at Orbital Park, Ashford, Kent. The 1.56 hectare
site produced remains predominantly dating from the mid to late Iron Age, although
a middle Bronze Age ditch and a Neolithic flint scatter were also uncovered.
Approximately 60 linear features were observed, including one curvilinear feature
which formed a ring gully. These features belong to at least five phases of activity at
the site spanning a 200-year period. There were also 182 discrete features,
including some 40 postholes clustered around and post-dating the ring gully. No
identifiable structures were observed within this cluster. However a possible fourpost
structure was recorded to the north of the ring-gully.
This assessment presents the preliminary findings of the fieldwork, specifies what
further post-excavation recording and analysis is required. It assesses the potential
of the results to address research questions and contribute to a better
understanding of the region's earlier prehistoric and Iron Age landscapes.
Actions (login required)