Ladd, Stuart (2016) Melbourn Substation to Black Peak Farm and Muncey's Farm, Melbourn: Cable Trench. [Client Report] (Unpublished)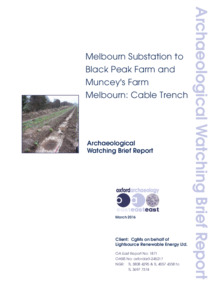 Preview
PDF




MELCAB14_Report_1871_LR.pdf


Available under License Creative Commons Attribution Share Alike.
Download (4MB) | Preview
Abstract
From November 25th 2014 until February 12th 2015, OA East carried out an archaeological watching brief along 5.8km of trenching for an electric cable through Melbourn, Cambridgeshire between Black Peak Farm (TL 4057 4358), Muncey's Farm (TL 3808 4295) and Melbourn Substation (TL 3697 4374). The monitoring was carried out during soil stripping (0.6-1.6m in width) and trenching to place cable duct.
Across the landscape, a number of broad natural hollows were revealed. Most contained buried subsoils, producing a range of datable material up to the post-medieval period but two at Royston Road produced a quantity of Late Mesolithic/Early Neolithic worked flint. A shallow Grooved Ware (Late Neolithic) Pit was revealed on the plateau between New Road and Muncey's Farm containing worked flints, pottery and animal bone.
As well as a number of undated features, a Late Iron Age pit containing burnt stones, a possible clay lining and possibly a complete vessel was exposed. Along Royston Road, three ditches, likely of Medieval or earlier date were also recorded. Near Muncey's farm a post-medieval furrow and ditches were recorded. In addition to the hollow/subsoil finds, post-medieval features included postholes between Black Peak Farm and New Road.
Item Type:
Client Report
Uncontrolled Keywords:
archaeological watching brief, cambridgeshire, melbourn, neolithic, pottery, neolithic pottery, grooved ware, late mesolithic, early neolithic, worked flint, lithic implement, iron age, late iron age, burnt stone, post-medieval, furrow
Subjects:
Geographical Areas > English Counties > Cambridgeshire
Period > UK Periods > Neolithic 4000 - 2200 BC > Early Neolithic 4000 - 3000 BC
Period > UK Periods > Iron Age 800 BC - 43 AD
Period > UK Periods > Iron Age 800 BC - 43 AD > Late Iron Age 100 BC - 43 AD
Period > UK Periods > Mesolithic 10,000 - 4,000 BC > Late Mesolithic 7000 - 4000 BC
Period > UK Periods > Neolithic 4000 - 2200 BC
Period > UK Periods > Post Medieval 1540 - 1901 AD
Divisions:
Oxford Archaeology East
Depositing User:

Chris Faine

Date Deposited:
20 Oct 2017 10:49
Last Modified:
20 Oct 2017 10:49
URI:
http://eprints.oxfordarchaeology.com/id/eprint/3319
Actions (login required)