Clarke, Graeme (2015) Land at Greetwell Hall Farm, Messingham Quarry, Manton, North Lincolnshire. [Client Report] (Unpublished)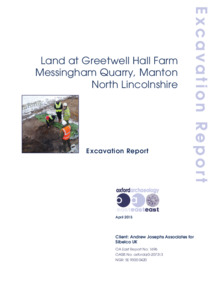 Preview
PDF




XLIMES14_Report_1696_DraftInterim_LR-exAJ.pdf


Available under License Creative Commons Attribution Share Alike.
Download (2MB) | Preview
Abstract
Between the 19th January and 19th of March 2015, Oxford Archaeology East conducted an archaeological excavation on Land at Greetwell Hall Farm, Messingham Quarry, Manton, North Lincolnshire.
This interim report summarises the preliminary results of the excavation of Phase 3 of the proposed extension to the quarry centred on SE 9300 0420. The report also includes preliminary assessments of the ironworking slag and charcoal assemblages recovered.
Previous archaeological work undertaken for this phase include a desk study, surface artefact survey, geophysical survey and evaluation trenching by ASE Ltd. This work identified two accumulations of slag indicative of iron smelting. Two charcoal samples were taken for radiocarbon dating and returned Late Bronze Age/Early Iron Age date ranges of 1010-840BC and 820-590BC. A ditch was also excavated with a charcoal sample returning a Middle Iron Age date.
Oxford Archaeology East carried out a full excavation of the two slag accumulations and determined that they comprised similar morphology of slag type but differed in structure. The remains of an iron smelting furnace were identified in association with one of the slag accumulations which formed a plume of discarded waste material. The second slag accumulation was shown to survive solely within the disturbed topsoil with no trace of an associated furnace remaining.
The ditch excavated to the south during the evaluation was found to be part of a large enclosure of post-medieval date apparently enclosing a lower and previously wetter area drained by the Manton Sewer. The charcoal sample retrieved from this ditch in the trial trench evaluation is therefore considered to be residual material.
The excavation has demonstrated the presence of significant iron smelting remains at Messingham Quarry. These remains are important evidence for an Early Iron Age ironworking industry and economy in North Lincolnshire which was previously absent in the archaeological record. The analysis of the slag assemblage recovered will contribute greatly to our understanding of this industry.
Item Type:
Client Report
Uncontrolled Keywords:
archaeological excavation, interim report, lincolnshire, north lincolnshire, manton, iron age, smelting, furnace, slag, archaeometallurgy, archaeomagnetic analysis, manton sewer, post-medieval, enclosure
Subjects:
Geographical Areas > English Counties > Lincolnshire
Period > UK Periods > Iron Age 800 BC - 43 AD > Early Iron Age 800 - 400 BC
Period > UK Periods > Iron Age 800 BC - 43 AD
Period > UK Periods > Bronze Age 2500 - 700 BC > Late Bronze Age 1000 - 700 BC
Period > UK Periods > Iron Age 800 BC - 43 AD > Middle Iron Age 400 - 100 BC
Period > UK Periods > Post Medieval 1540 - 1901 AD
Divisions:
Oxford Archaeology East
Depositing User:

Chris Faine

Date Deposited:
20 Oct 2017 11:49
Last Modified:
20 Oct 2017 11:49
URI:
http://eprints.oxfordarchaeology.com/id/eprint/3320
Actions (login required)