Stocks-Morgan, Helen (2017) Later Bronze Age and medieval remains at Zone K (Area K1), Beaulieu, Chelmsford, Essex: PXA and UPD. [Client Report] (Unpublished)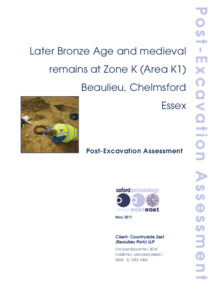 Preview
PDF




XEXBEP14_Area_K1_Report_2076_LR.pdf


Available under License Creative Commons Attribution Share Alike.
Download (2MB) | Preview
Abstract
Oxford Archaeology East carried out an open area excavation within Zone K (Area K1), Beaulieu, Chelmsford ahead of proposed new housing. These works were carried out between the 24/10/16 and 18/11/16.
The earliest phase of archaeological remains encountered comprised two Later Bronze Age pits. These may represent votive offerings that are part of a wider pattern of Later Bronze Age open settlement identified across the Beaulieu development area.
Occupation of the site during the 12th to 13th century was represented by a series of ditches that probably formed part of a field system. A second phase of activity was indicated by the remains of a possible domestic structure with an associated surface and rubbish pits. Both phases of medieval activity may have formed part of a wider pattern of nucleated settlement which surrounded the nearby Belstead Hall manor complex.
Item Type:
Client Report
Uncontrolled Keywords:
archaeological excavation, essex, chelmsford, beaulieu park, bronze age, later bronze age, votive pit, medieval, field system, nucleated settlement, belstead hall, manor complex
Subjects:
Geographical Areas > English Counties > Essex
Period > UK Periods > Bronze Age 2500 - 700 BC
Period > UK Periods > Bronze Age 2500 - 700 BC > Late Bronze Age 1000 - 700 BC
Period > UK Periods > Medieval 1066 - 1540 AD
Divisions:
Oxford Archaeology East
Depositing User:

Chris Faine

Date Deposited:
13 Nov 2017 08:34
Last Modified:
13 Nov 2017 08:34
URI:
http://eprints.oxfordarchaeology.com/id/eprint/3368
Actions (login required)