Webster, Michael (2015) Sayers Farm, Hadleigh Farm and Country park. Olympic Legacy Project, Chapel Lane, Hadleigh, Essex. [Client Report] (Unpublished)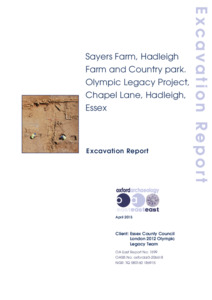 Preview
PDF




Report 1599_LR2.pdf


Available under License Creative Commons Attribution Share Alike.
Download (1MB) | Preview
Abstract
In February 2014 Oxford Archaeology East conducted an archaeological excavation on land north of Sayers Farm, Hadleigh, Essex (NGR TQ 580160 186915). The work was carried out on behalf of Essex County Council London 2012 Olympic Legacy Team in advance of construction of a new visitors centre, small industrial units and a 750 capacity car park.
At least four phases of activity were identified during the excavation. Archaeological remains included an undated drainage or boundary ditch, medieval ditched enclosures and pits, late medieval/ post medieval boundary ditches and a modern boundary. The majority of the features uncovered were medieval. The ceramic assemblage suggests activity spanned the mid 11th to the end of the 14th century. A series of small enclosures and boundary ditches were identified, along with one group of postholes and pits. The small plots were agricultural in function and possibly associated with the former medieval farm that was situated close to the existing Sayers Farm.
The open area excavation was carried out in two stages, the western half measuring roughly 13m x 21m and the eastern half measuring roughly 19m x 27m, totalling 786 sqm. Full access was restricted because of the presence of a badger set and recently laid services along the north boundary, and the continuing demolition of buildings along the west and south edge of the site.
Item Type:
Client Report
Uncontrolled Keywords:
archaeological excavation, essex, castle point, hadleigh, medieval, enclosure, boundary ditch, field system, agriculture, pottery, badger sett
Subjects:
Geographical Areas > English Counties > Essex
Period > UK Periods > Medieval 1066 - 1540 AD
Divisions:
Oxford Archaeology East
Depositing User:

Chris Faine

Date Deposited:
27 Nov 2017 09:16
Last Modified:
27 Nov 2017 09:16
URI:
http://eprints.oxfordarchaeology.com/id/eprint/3399
Actions (login required)