Strid, Lena President's Garden St John's College Oxford. [Client Report] (Unpublished)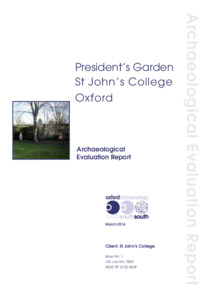 Preview
PDF




OXJG14_PdfA.pdf


Download (5MB) | Preview
Abstract
Between January and early February 2014, Oxford Archaeology carried out a field
evaluation at the President's Garden, St John's College, St Giles, Oxford (the Site).
The work was commissioned by St John's College in advance of the proposed
expansion of the Colleges library facilities and construction of new buildings within
the eastern side of the President's Garden.
The evaluation consisted of three trenches of various sizes which represents c 7%
sample (54m2) of the development footprint (c. 800m2).
The evaluation revealed that the Site's natural horizon, and original ground level,
had been heavily truncated by later activity.
There was a lack of pre-medieval fills and finds, although a complete absence of
pre-medieval activity can not be ruled out.
There was evidence for medieval activity from as early as late 12th century, with the
majority of medieval finds dated to the later centuries of the medieval period (c.
1250 - 1500). Evidence of such activity was represented by pits of varying sizes, the
smaller ones possibly of a domestic nature, and the larger almost certainly
indicating quarrying for sands and gravels from potentially as early as the 13th –
14th century. If the activity is domestic this suggests that the later tenement
boundaries shown on late 16th-century maps may have been further to the east
(perhaps represented by a ditch precursor to the early 17th-century Sprott Wall) and
therefore included the area of the Site.
The formalisation of the ditched boundary by the construction of a stone wall called
'Sprott Wall' perhaps post-dates earlier late 16th-century quarrying, possibly by St
John's College, and definitely pre-dates quarrying in the first half of the 17th century
by the College before the area was laid out to formal gardens in the later half of that
century.
Actions (login required)