Schofield, Peter and Quartermaine, Helen and Quartermaine, Jamie (2016) Keld Heads Lead Mines and Smelt Mill, Wensleydale, North Yorkshire - Archaeological Survey Report. Project Report. OA North. (Unpublished)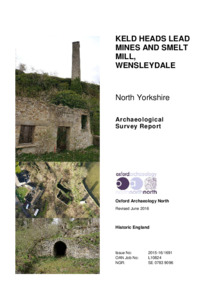 Preview
PDF




keld heads_Report Ver2.pdf


Download (14MB) | Preview
Abstract
Oxford Archaeology North (OA North) was invited by Historic England to undertake a
detailed topographic survey of the lead mining complex of Keld Heads, Wensleydale (SE
0793 9077). The survey was required to inform a management plan for the scheduled
monument and its two listed buildings (Engine House, Boiler House and Peat Store). A
project design was issued by OA North in accordance with brief from English Heritage, which
required the provision of a documentary study, and Level 2 and Level 3 surveys of the overall
landscape. The survey was undertaken by means of photogrammetry with photographs taken
from an Unmanned Aerial Vehicle (UAV) of open areas and by total station survey in areas of
woodland. The survey was undertaken between 20th January and 28th April 2015.
Keld Heads was one of a number of lead mines in the region that were developed in the
nineteenth century, the lead extracted and then the mines closed when they were no longer
profitable. However, at Keld Heads as well as early enthusiasm, investment and determination
to make the mine succeed, innovative new technologies were incorporated both at the mine
and the Smelt Mill. These included deep below-ground shafts, the use of steam engines to
drain the underground workings, and the sequential layout of mechanised dressing floor
operations, as well as advanced ideas for the extraction of lead and silver at the Smelt Mill,
Condenser House and its Flue. The intensity of the enterprise and the number of employees at
both mine and smelting mill would have had considerable impact on the local communities in
the middle of the nineteenth century.
Actions (login required)