McAlley, Rowan (2010) Stone House Hospital, Dartford, Archaeological Watching Brief Report. Project Report. Oxford Archaeological Unit Ltd. (Unpublished)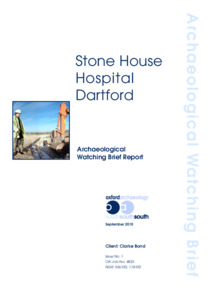 Preview
PDF




DASHH10.pdfA.pdf


Download (3MB) | Preview
Abstract
On the 2nd to 6th August 2010, Oxford Archaeology (OA) undertook a Watching Brief at Stone House Hospital, Dartford (NGR 556100, 174100) prior to the development
of new housing. The Watching Brief consisted of monitoring a series of geotechnical boreholes and test pits to provide additional information regarding the archaeological potential across the site.
Detailed examination of the interventions revealed areas of substantial modern made ground and truncation of the original Holocene soil profile associated with the
construction of the hospital buildings which significantly reduces the potential for archaeological features to be preserved. However, possible intact subsoil deposits
identified away from the main buildings suggest discrete areas may exist where truncation may have been less severe. No archaeological features or artefacts were identified during the Watching Brief which suggests the area was not a focus of intensive activity in the past.
Substantial thicknesses of Pleistocene gravel deposits associated with the Boyne Hill Formation underlie much of the site. Similar sequences in the region are known
to contain important Palaeolithic remains dating to the Hoxnian interglacial. Variation within the sediment structure at Stobehouse Hospital suggests some of the finer
grained grained deposits may have been deposited in low energy environments and as such have greater potential for preserving insitu artefacts.
Actions (login required)