Bashford, Robin Undergraduate Centre and Access Centre, Wadham College, Oxford Archaeological Evaluation Report. [Client Report] (Unpublished)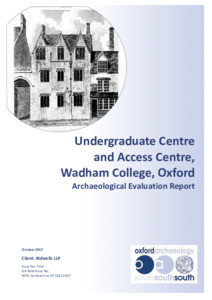 Preview
PDF




OXWIB17_Report_pdfa.pdf


Download (6MB) | Preview
Abstract
Oxford Archaeology (OA) were commissioned by Bidwells LLP on behalf of
Wadham College to undertake bespoke archaeological evaluation trenching,
along with an archaeological watching brief on geotechnical works, within the
area of the proposed Undergraduate Centre and Access Centre, Wadham College,
Oxford.
The evaluation, which was undertaken during the last two weeks of August 2017,
revealed terrace gravels overlain in one location by an undisturbed element of
the post-glacial brickearth deposit which overlies the gravel terrace. The
brickearth had been cut by at least one inhumation, which the dating evidence
suggests is likely to relate to the tenure of the Austin Friars, who occupied the site
from the foundation of the Friary in 1268 until the Dissolution. Medieval pits
dating to the 12th-13th century were also present, although it is unclear whether
these pre-dated the Friary or were contemporary with its' foundation. The pits
were tentatively interpreted as evidence for quarrying.
There was some evidence for post-dissolution landscaping which may have been
contemporary with the demolition of the Friary buildings and the laying out of
tenements fronting onto Holywell Street in the early-mid 17th century. Evidence
for large features to the rear of these properties was also revealed, although the
function of these features was unclear as their extent was not seen within the
confines of the trenches. There was also some evidence for a later phase of
landscaping in the 18th-19th century.
Actions (login required)