Muir, Jeff and Newell, Kate and Blinkhorn, Paul and Chandler, Jon and Cropper, Cecily and Scott, Ian and Scott, Nicky Excavation and building survey on the site of Temple Cowley Manor House, Temple Cowley, Oxford. [Client Report] (Unpublished)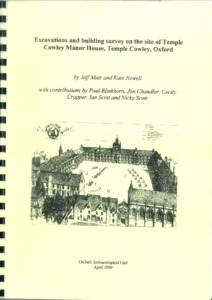 Preview
PDF




OXNUFF97.pdf


Download (14MB) | Preview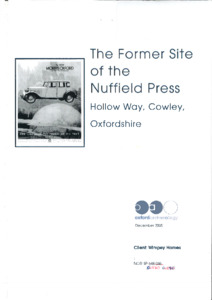 Preview
PDF




OXNUFF97_Building_Survey.pdf


Download (3MB) | Preview
Abstract
In November 1997 the Oxford Archaeological Unit (OAU) were asked to undertake a field evaluation on the site of the former Nuffield Press and Oxford Military College, Hollow Way, Temple Cowley. The evaluation was carried out ahead of ground works for separate residential developments by Wimpey Homes Ltd and Thomas & Co. and was to be integrated with a separate field survey of the extant manor house wall.
In 1997, as part of a larger archaeological project, two buildings formerly owned by the Nffield Press and
Morris Motors Ltd were recorded in advance of their demolition qnd the site's redevelopment. The Drinkwater
Building was a two story, late l9th century, building which had initially been contructed as a Laboratory for
the Military College, but had latterly was put to a variety of uses by the occupants of the site including as the
headquartersfor the work's rescue service and an electricity substation. The 'A-shop'was constructed in 1914
and originally housed a munitions factory beþre being taken over first by Morris' expanding car
manufacturing industry, then by Nufield Press the print firm who were funded by Morris to print 'Ihe
Morris Owner'magazine. Both buildings were demolished after the survey and re-developed into housing.
This report provides a description of the buildings together with their historical background, based on the
photographic and drawn survey conducted by OA in 1997. It also provides qn opportunity to apply
archaeological recording techniques to 20th century industrial history, an area which has too often overlooked
as unsuitable or inappropriate to archaeological study. Together with the documentary history, which
although relatively recent was surprsingly scarce and the first hand accounts of Colin Judge, Ricky West and
others who worked at the site from the 1950's onwards, this report presents a important insight into the social
and industrial history of the Hollow Way site with detailed reference to the buildings inwhich it occurred.
Actions (login required)