Brown, Richard (2005) Newbury Parkway phase 1. Project Report. Oxford Archaeological Unit Ltd. (Unpublished)

Preview
PDF




NEWPPIEV_report.pdf


Download (1MB) | Preview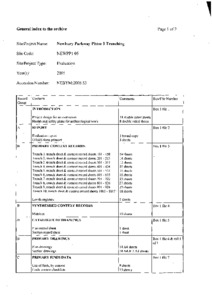 Preview
PDF




NEWPPI_05__Newbury_Parkway_Phase_1_Trenching_A1b.pdf


Download (23MB) | Preview
Abstract
In August and September 2005 Oxford Archaeology carried out a field evaluation at Newbury Parkway (NGR SU 471 673), Newbury, Berkshire on behalf of Shearer Property Group.
The evaluation revealed an intact sequence of alluvial sediments comprising clays and peats overlying the gravel terrace of the River Kennet. No archaeological remains were found associated with these deposits. However the evaluation sample size was low in relation to the
overall investigation area. Preservation of environmental indicators within this sequence was generally good.
The alluvial sequence was cut into by evidence of land demarcation (a maintained/re-cut burghage plot ditch) to the south-west of the site. Pottery retrieved from these features indicated a date after the late 12th
century.
Much of the investigation area appeared to have been subject to formal reclamation (from marshland) in the late 12th century. This was evidenced by a distinct compacted layer that appeared in many of the trenches
capping the peat which formed the upper part of the alluvial sequence. Yard surfaces found immediately to the rear of Northbrook Street are also likely to date from this period, as was a pit to the eastern side of the site.
Subsequent to the reclamation deposit, a gradual accumulation of deposits through dumping and silting was recorded in many of the trenches. A probable tanning waste pit dated to the 15th century was recorded to the
central eastern part of the site.
Importation of garden soil in the middle 16th century was noted across the site, as well as pits related to construction during this period A brick structure which most likely relates to 19th century culverting of a
stream which formed the eastern boundary of the site was recorded.
Actions (login required)