Gill, Jonathan Bedford Gas Works Historic Building Investigation and Recording. [Client Report]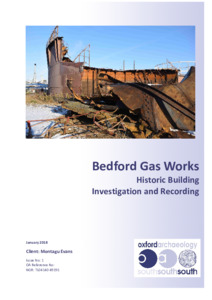 Preview
PDF




BEGAS17.pdf


Download (11MB) | Preview
Abstract
The gasworks in Bedford has been a feature of the town's landscape since the
1830s; initially on a site off Priory Street and from 1864 on a nearby site off Ford
End Road. The large gasholders would have formed prominent features illustrating
the 19th and 20th-century industrial development of this part of the town, also
shown by the Eagle Brewery to the west of the works, the Britannia Iron Works to
the south-east and by the railway passing to the east.
The gasworks gradually expanded during the first half of the 20th century but then
in the 1970s much of the site was cleared after British Gas decided to phase out the
production of gas from burning coal in retorts to the use of natural gas.
Three large gasholders remained in use after this switch to natural gas but they are
now redundant and the site is being fully cleared. This forms part of a wider national
programme to clear redundant gasholders and due to the fact that they are often
of some heritage interest (although rarely listed) National Grid is undertaking a
programme of historic building recording prior to their loss. Their interest is often
as they form prominent elements of many urban landscapes.
The three holders at the Bedford works which have been recorded are all 20 thcentury
in date and the part of the overall site where they are located is also part
of the 20th-century expansion to the works. Two of the holders are spirally guided
and name plates firmly date them to 1926 and 1938. The other holder has a
telescopic design and it was originally constructed in the early 20th century
(probably Edwardian period). However, it underwent a substantial reconstruction
in the mid 20th century (probably between 1945 and 1960) when the external
supporting frame was replaced.
The gasholders are of limited intrinsic heritage significance but they will have some
local interest in relation to this part of Bedford and the current recording has
documented this.
The site also includes various other small elements of plant but none of these are
of any age or heritage significance.
Actions (login required)