Robinson, Ben and Baggs, Anthony (1999) St Mary's Chuch, Shudy Camps: A Survey of the Upper Stages of the Tower. [Client Report] (Unpublished)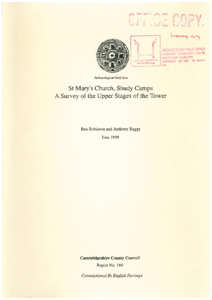 Preview
PDF




CCCAFU_report160.pdf


Available under License Creative Commons Attribution Share Alike.
Download (59MB) | Preview
Abstract
During the winter of 1993/94 the Cambridgeshire County Council Archaeological Field unit, in conjunction with the Cambridge Historic Buildings Group undertook a recording exercise on the tower of St Mary's Church, Shudy Camps, Cambridgeshire (TL 62025 44419). The work was commissioned by English Heritage as a matter of urgency after a restoration of the tower had revealed the precarious nature of its upper levels and a decision was made to dismantle then re-construct the tower.
The recording exercise demonstrated various stages in the development of the tower. The tower is tall and narrow, suggesting that it preserves the dimensions of an earlier tower (twelfth of thirteenth Century) which was later rebuilt or modified and heightened. The impetus for heightening the tower would have been provided by the installation of the bell frame: the top stage, bell frame, buttress and ringing chamber stair were probably added in the let fifteenth or early sixteenth century.
The post-medieval history of the top stage is one of structural failure and repair. Modifications of the bell frame may have contributed to the structural stresses experienced by the upper stages.
Actions (login required)