Hatton, Andrew and Macaulay, Stephen (1999) Medieval Settlement Remains at Cloverfield Drive, Soham. December 1999. [Client Report] (Unpublished)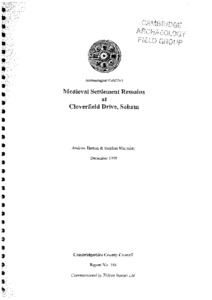 Preview
PDF




CCCAFU_report168.pdf


Available under License Creative Commons Attribution Share Alike.
Download (5MB) | Preview
Abstract
Between the 25th October and the 7th December 1999 an archaeological evaluation was undertaken on 12.5 hectares of land immediately to the Northwest of the modern village of Soham (TL5870/7420), by staff of the Cambridgeshire County Council Archaeological Field Unit. The work was carried out in connection with a proposed development of the site involving the construction of dwellings, access roads and services.
Thirteen trenches were excavated across the site to ascertain the presence or absence of archaeological remains. The subsequent investigation of the trenches revealed archaeological remains in all but two trenches (Tr.7 & 11), consisting of postholes, pits and linear ditches. many of the features contained pottery, dating to the period between 1150-1550 AD with the majority being Medieval Ely Ware. Some Roman pottery was recovered and other significant artefacts included fragments of animal bone. Evidence for possible Prehistoric structures was found at the north end of Trench 1 and also in Trenches 3, 4 and 11.
Many of the features identified on the higher ground, in Trenches 1 & 2, may be associated with structures, drainage ditches and field boundaries. The density of features suggests that these possible structures my have formed part of a linear development moving away from the centre of Soham, possibly linked to the Soham Mere fisheries. There are fewer features in the remaining trenches and the majority of these are ditches. They can probably be interpreted as field boundaries.
Item Type:
Client Report
Uncontrolled Keywords:
Cambridgeshire, Soham, Cloverfield Drive, Soham Mere Fisheries, Prehistoric, Post hole, Medieval, Roman Sandy Ware, Medieval Ely Ware, Animal Bone, Aerial Photography, archaeological evaluation, cambridgeshire, soham, medieval, pottery, medieval pottery, medieval ely ware, animal bone, faunal remains, roman, roman pottery, neolithic, sandy ware
Subjects:
Geographical Areas > English Counties > Cambridgeshire
Period > UK Periods > Medieval 1066 - 1540 AD
Period > UK Periods > Neolithic 4000 - 2200 BC
Period > UK Periods > Roman 43 - 410 AD
Depositing User:

Archives

Date Deposited:
10 Sep 2018 09:05
Last Modified:
10 Sep 2018 09:05
URI:
http://eprints.oxfordarchaeology.com/id/eprint/4176
Actions (login required)