Moan, Patrick (2018) A Roman Road and Cremation Cemetery, Walden Road, Great Chesterford, Essex. [Client Report] (Unpublished)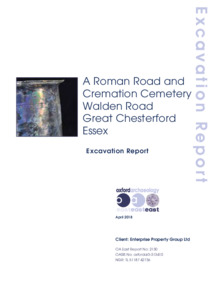 Preview
PDF




XEXTLC17_Grey_Lit_2130_LRa.pdf


Available under License Creative Commons Attribution Share Alike.
Download (5MB) | Preview
Abstract
Between 14th and 22nd August 2017, Oxford Archaeology East (OAE) carried out an excavation on land south of Walden Road, Great Chesterford, Essex (TL 5127 4278). A small area measuring 30×30m was opened, targeting features found during the previous evaluation works, thought to be parts of a Roman field system. A pair of roadside ditches on a west-north-west to east-south-east alignment were uncovered, along with boundary ditches relating to a field system extending to the south of the site. A small Early Roman cremation cemetery of six individuals and one foetal burial were located adjacent to the southern roadside ditch.
The results indicate a similar history for the road's use as to that of another road leading out of Great Chesterford previously excavated by OAE, which both mirrored the fortunes of the town, with the roadside ditches going out of use during the 3rd century AD. The cremation cemetery was situated on the edge of the road's southern ditch, within its own distinct plot. The cremations were relatively well furnished, and at least four of the 13 vessels associated with the burials showed evidence for 'ritual killing' in the form of pierced holes and clipped off rims or necks. No metalwork was found with the burials, although a fine glass drinking vessel was found associated with one.
A total of 9862g of Roman pottery was recovered from the features on site, including a number of complete or near-complete vessels from the cremation burials. Ceramic building material (619g), animal bone (2.6kg) along with an Iron Age and two Roman coins were also recovered from the excavation. Environmental results were relatively sparse, but indicated that spelt and barley were grown in the vicinity.
The route of the road can be traced in cropmarks and current boundaries from the Roman Small Town of Great Chesterford's eastern gate, c. 650m to the west-north-west of the site, heading towards Radwinter, a large Roman roadside settlement from where it most probably continued to Colchester.
Overall, the results of the small excavation, although limited in scope, add to the current understanding of the Roman road network around Great Chesterford and the burial practices undertaken in the area during the Early Roman period.
Item Type:
Client Report
Uncontrolled Keywords:
archaeological excavation, essex, uttlesford, great chesterford, roman, cremation, HSR, funerary urn, urned cremation, human remains, pottery, glass, metalwork, worked bone, animal bone, ecofacts, environmental samples, samian ware, nail, coin, trackway, road, road network, field system, ditch, pit, packed earth, complete vessel, CBM, 2130, report 2130, OAE report 2130, ceramic building material
Subjects:
Geographical Areas > English Counties > Essex
Period > UK Periods > Roman 43 - 410 AD
Divisions:
Oxford Archaeology East
Depositing User:

Hamilton

Date Deposited:
21 Aug 2018 07:50
Last Modified:
28 Aug 2018 19:55
URI:
http://eprints.oxfordarchaeology.com/id/eprint/4205
Actions (login required)