Mottershead, Sarah and Miller, Ian (2015) Hathersage Road, Ardwick, Manchester. Archaeological Evaluation Report. [Client Report] (Unpublished)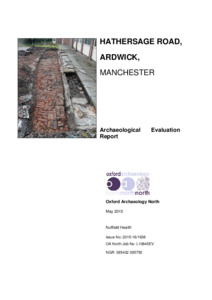 Preview
PDF




Hathersage Road, Manchester_Archaeological Evaluation Report.pdf


Download (6MB) | Preview
Abstract
The archaeological potential of the site has been highlighted by a desk-based assessment, which showed that the site had been occupied during the eighteenth and
nineteenth centuries by a farmhouse and associated barn, and also had been the site of an early boundary between the townships of Chorlton-on-Medlock and Rusholme. In the light of the conclusions drawn by the desk-based assessment, Oxford Archaeology North was commissioned by Nuffield Health to carry out a programme of archaeological evaluation. This comprised the mechanical excavation of four targeted
trenches within the study area in order to evaluate the archaeological resource. The evaluation was carried out in May 2015. A substantial and well-preserved laid brick surface was revealed along the base of one of the trenches placed across the farmhouse, whilst a stone-built foundation that acted, at least in part, as a drain was exposed in the second trench. Limited excavation of the construction trench for this stone-built structure yielded an assemblage of pottery fragments to which a late seventeenth to nineteenth-century date range can be ascribed. The trench placed across the footprint of the outbuilding associated with the
farmhouse similarly revealed a laid brick surface at a shallow depth. This surface retained evidence for repairs that had been executed in both brick and concrete, but
nevertheless appeared to be associated with the farmstead structures shown on the historic mapping. The final trench targeted the former township boundary feature depicted on the sequence of historical mapping. However, excavation revealed that this part of the site had been subject to considerable modern disturbance, including a large negative feature that continued to a depth of greater than 1.3m and contained modern materials to depth. No evidence for the historic township boundary was identified, suggesting that it had been destroyed.
Actions (login required)