Street, Rachel (2015) Green Quarter Block 7, Cheetham Hill Road, Manchester. Archaeological Desk-based Assessment. Project Report. Oxford Archaeology North. (Unpublished)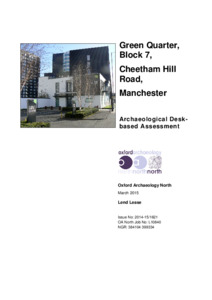 Preview
PDF




L10840_GreenQuarter_FullRep.pdf


Download (9MB) | Preview
Abstract
In total, 48 heritage assets have been identified within a study area of 600m, of which only eight lie within the boundary of the proposed development, the majority of which
pertain to the residential development of the area in the nineteenth century. None of these sites within the development area have any statutory designation, or are of
sufficient significance to warrant their preservation in-sit been identified, it is likely that five will have been damaged or destroyed entirely, and the only potential surviving buried remains pertain to the cellars of nineteenth-century workers' housing. The is little potential for any archaeological remains pre-dating the nineteenth century to survive on the site.
The study of eighteenth- and nineteenth-century workers' housing has been recognised in recent years as a legitimate avenue of research, as summarised in the current Archaeological Research Framework for North West England. Whilst a considerable body of significant data has been generated from the archaeological
investigation of workers' housing during the past few years, certain types of this monument type merit further research. In particular, the development of back-to-back housing, especially those that contained cellars, is not particularly well-represented in the archaeological record. The site of one block of such houses lies within the development area, with some potential for the survival of below-ground remains, together with the cellars of larger domestic buildings.
Actions (login required)