Bradley, Jeremy (2013) 18,The Promenade Maryport,Cumbria: Watching Brief Report. Project Report. Oxford Archaeology North. (Unpublished)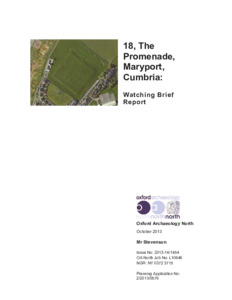 Preview
PDF




No_18_The Promenade Maryport.pdf


Download (7MB) | Preview
Abstract
The strip foundations located on the western side of the property (Figs 2 and 3) contained, at the base, natural geology (reddish-brown silty clay, 01). Lying above this was an intermittent layer of rounded cobbles (02), varying in size between 50 and 70mm. Overlying the cobbles and natural geology was a layer of reddish-brown silty clay (03), some 0.2m thick, which was devoid of artefacts. Its similarity to the Roman deposits found both to the front and rear of Number 19, The Promenade (OA North 2013) suggests a Roman date for this deposit. This was, in turn, sealed by a layer of topsoil (04), which was capped by rubble and a concrete surface (05).
1.2.1 The deposits revealed within the strip foundations at Number 18, The Promenade, comprised intermittent cobbling (02) and a layer of silty clay (03).
An isolated patch of cobbling (recorded as deposit 07), similar to 02, was also identified within the rear (east) strip foundations of a recent extension to
Number 19, The Promenade (OA North 2013). Cobbling had previously been reported when the houses were first built in the 1920s (Bailey 1923), and was a typical Roman construction technique.
1.2.2 Clay layer (03), at Number 18, was a continuation of a layer (deposit 04)
identified during the watching brief on Number 19, which contained Samian ware pottery, and sealed a layer of yellow clay. Both layers 03 and 04 and the cobbles (02 and 07) were probably Roman levelling deposits/surfaces, either associated with the parade ground for the Hadrianic Fort, or, perhaps more contentiously, part of the rampart of the putative Trajanic or late-Flavian fort
(Flynn 2006 a and b).
Actions (login required)