Clapperton, Kelly (2016) Overtown Cable, Overtown, Cowan Bridge, Lancashire. Archaeological Watching Brief Report. Project Report. Oxford Archaeology North. (Unpublished)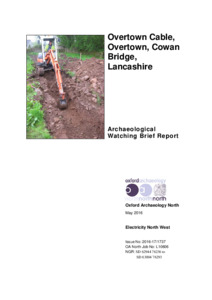 Preview
PDF




L10606_OvertownCable_FullRep_May2016.pdf


Download (4MB) | Preview
Abstract
A cable trench, measuring 112m in length and 2m in width, was opened by mechanical excavator fitted with a toothless ditching bucket. The trench largely comprised 0.2m of topsoil (100); c 0.3m of subsoil (101); and natural geology (102).
Towards the eastern end of the trench a section of putative Roman Road was identified, which comprised several ephemeral layers of pebble, clay, gravel and cobble hardcore (103, 104, 105 and 106). Truncating much of the putative road was a large modern cut (109) that had been backfilled, and was most likely the cut for the septic tank for Overtown Cottage, inserted c 20 years ago. There was no evidence of a
metalled surface, nor roadside ditch, suggesting that the feature had been robbed and disturbed. The small fragment of road material that survived, sealed an area of former
soil horizon (114).
Based upon the results of the watching brief, it seems likely that much of the Roman Road has been truncated by later development in the Overtown area, and that the
chances of other sections surviving intact in the vicinity are restricted to the relatively untouched surrounding fields. Nevertheless, the proximity of the hamlet to the Roman Fort at Burrow in Lonsdale, and its location near the heart of so many ancient communication routes, would suggest that the area has high potential for further archaeological remains.
Actions (login required)