Vannan, Alastair (2012) Cog 7 Centre, Crewe Road, Nantwich, Cheshire. Archaeological Desk-based Assessment. [Client Report] (Unpublished)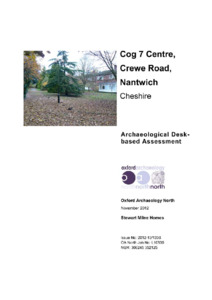 Preview
PDF




Cog Centre, Nantwich_Archaeological Assessment.pdf


Download (9MB) | Preview
Abstract
In October 2012, Stewart Milne Homes commissioned Oxford Archaeology North (OA North) to carry out an archaeological desk-based assessment of land situated on the south-eastern fringe of Nantwich, Cheshire (centred at NGR 366245, 352125). The assessment was required to inform the planning process for a proposed redevelopment of the site, in accordance with current government policy. The assessment was intended to provide an informed basis regarding the significance of any archaeological heritage assets within the site, and the impact of the proposed development upon their significance.
Three heritage assets of archaeological interest have been identified from documentary sources. The Scheme Area was agricultural land and seemingly
undeveloped until the mid-nineteenth century, when Laurel Grove farm (Site 01) was erected. However, the only identified structure associated with the farm that lay
within the boundary of the Scheme Area was the site of a greenhouse, and is of negligible importance. The sites of two demolished nineteenth-century field barns (Sites 03 and 04) were also identified within the proposed Scheme Area, and are also of negligible importance. The Regent's Theological College complex (Site 02), which is still standing, is a locally listed building and lies immediately beyond the boundary of the Scheme Area.
Actions (login required)