Forde, Deirdre Jobsgreen Farm, Oldbury-upon-Severn South Gloucestershire. [Client Report] (Unpublished)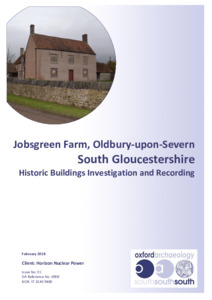 Preview
PDF




BRSMG_2017_129_Jobsgreen_Farm.pdf


Download (14MB) | Preview
Abstract
Oxford Archaeology (OA) was commissioned by Horizon Nuclear Power to
undertake an archaeological investigation and recording of the standing
buildings at the site of Jobsgreen Farm in Oldbury-upon-Severn,
Gloucestershire, prior to renovation of the property. The buildings include the
large two-storey farmhouse with an attic level, adjoining barns, and several
outbuildings arranged around a farmyard.
OA carried out a previous Historic Buildings Assessment of the farmhouse and
farm buildings in 2009 (with the report being issued in 2010). This was prior to
repairs undertaken principally to the roof structures to halt water ingress and
decay of the buildings. The current report represents an updated and amended
version of this in terms of building description, photographic record, and
drawn record. The previous report is referred to in order to reflect changes to
the site following the previous phase of repairs and renovation.
Jobsgreen Farm and its immediate curtilage (including the garden wall) is a
Grade II Listed Building. Other structures on the site are not included in the list
description and appear not to fall within the curtilage of the listed building.
Documentary research was previously undertaken as part of the 2009
investigation to determine the recent history of property ownership and has
been included in this report.
Examination of the farmhouse and attached barn shows that it was built in
several phases, but mostly in the late 17th or early 18th-century. The house
and kitchen were built around 1700, and the barn was added perhaps c 1750.
The house has end stacks and a rear stair turret, and a roof with some
interesting vernacular carpentry details. Other original fittings such as doors
and some windows remain or have been replaced in the same design, but the
fireplaces have been replaced. The later additions at the rear show variations
in carpentry techniques of floors and roofing.
Actions (login required)