Bullock, Vicki (2009) St Mary and All Saints Church, Whalley, Lancashire. Archaeological Watching Brief. [Client Report] (Unpublished)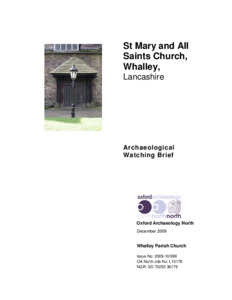 Preview
PDF




StMaryandAllSaintsChurchFullReport.pdf


Download (5MB) | Preview
Abstract
Whalley Parish Church commissioned Oxford Archaeology North (OA North) to undertake an archaeological watching brief within the grounds of St Mary and All Saints Church, Whalley, Lancashire (NGR centred SD 73250 36179). The church is a Grade I Listed Building (NMR No 44507). The proposals were to insert a kitchen to the rear of the north aisle, to insert a lavatory in an extension to the north porch, and to
move the 'Warden's Pew' to a position to the east of the north porch, together with a number of Victorian pews. Due to the high archaeological potential Lancashire County
Archaeology Service (LCAS) produced a project brief requesting that prior to any works a photographic record was to be undertaken of the interior, showing the pews and
elements of the church which would be affected. The brief also requested that the groundworks were to be carried out under permanent archaeological supervision. The work was undertaken between August and October 2009, in accordance with an OA North project design.
Whalley is mentioned in the Anglo-Saxon Chronicle in 798 (Farrer and Brownbill 1911) and sculptured crosses in the churchyard are thought to date from the ninth to eleventh
centuries (LHER 185). Furthermore, the present church of St Mary is said to have been built on the site of an eighth century church (LHER 724) and a later Norman structure.
According to the Victoria County History, prior to 1818 the churchyard was unenclosed and possibly surrounded by cottages (op cit). Fell also notes that "….in the churchyard
for centuries, stalls were set up and fairs held" (Fell 1979, 20).
Actions (login required)