Schofield, Peter (2007) Borrowdale cumbria. Historic Landscape Survey Volume 2: Site Gazetteer and Location Maps. [Client Report] (Unpublished)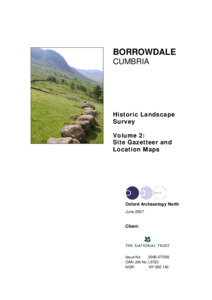 Preview
PDF




CompleteVol2.pdf


Download (8MB) | Preview
Abstract
The present report outlines the results of a landscape survey of the National Trust holdings in the Borrowdale valley, Cumbria, which comprise an area roughly 52.55km² in extent (centred on NY 260 140). This is the product of two phases of work; the first was by the National Trust Historic Landscape Survey Team in the mid-1990s and secondly, OA North was commissioned to complete the fieldwork and the report. The OA North fieldwork was undertaken between August and October 2006 and comprised a boundary survey of the
Seathwaite and Seatoller landholdings.
The aim of the study was to produce a comprehensive record of the archaeological remains within the valley, to undertake a boundary survey and provide analysis of the development of the landscape. It was to assess the survival and condition of the archaeological and environmental
resource within the valley and to provide management recommendations for the long term preservation of that resource.
The earliest activity in Borrowdale dates back to the Neolithic, when a band of fine-grained volcanic tuff, around the higher fells of the valley margins was exploited for axe
manufacture. Axe production took place at a number of sites within the study area, including Glaramara, and there was also a series of small axe working / camp sites that extend along the line of Stake Beck towards Langstrath which perhaps indicated an early northern communication route that followed Langstrath and Borrowdale. Small localised cairnfields and funerary remains suggest a significant Bronze Age presence, and a small hillfort on Castle Crag, above Rosthwaite, testifies to activity during the Iron Age.
Actions (login required)