Forde, Deirdre Bannister House Brewer Street Oxford. [Client Report] (Unpublished)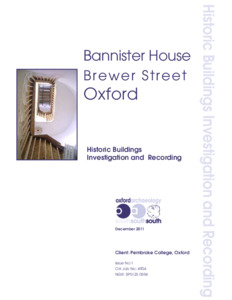 Preview
PDF




OXPCL10.pdf


Download (5MB) | Preview
Abstract
Oxford Archaeology has undertaken a programme of historic building recording on
Nos 7-8 Brewer Street (Bannister House) in Oxford prior to its renovation as part of a
large development by Pembroke College.
Bannister House is a multi phase structure from which No. 7 appears to be the oldest
surviving element, probably dating from the mid to late 17th century, although it is
possible that the cellar and ground floor could retain earlier elements. No. 7 is a fine
example of a large urban timber framed building and is probably representative of a
certain phase of timber frame building in Oxford city, which has now mostly been lost.
The first phase of No. 8, to the north, was built onto the stone west gable wall of No.
7, probably in the late 17th century. It is a small three storied stone building with a
single room at each level. The roof shows evidence of rearrangement in the 19th
century, probably around the time of the first extension to the south and as a
consequence the southern arrangement of the first phase has been lost.
No evidence of any major phase of alterations in the 18th-century appears to survive
and the second phase of No.8, to the south, is likely to date to the first half of the 19th
century. It is a relatively high status extension with high ceilings and a grand, ornate
staircase which demonstrates an aggrandisement of the house. The third phase, to the
west, which added a further three large rooms to the house, was likely to have been
built shortly after in the early to mid 19th century.
The investigation of Bannister House forms part of a wider programme of
archaeological work at the Pembroke College development site which also includes
the recording of several other structures prior to their demolition (including No. 6
Brewer Street) and below-ground recording during intrusive works. The current report
has enhanced understanding of Bannister House and it adds to a previous analysis
undertaken by the Oxfordshire Buildings Record in May 2011.
Actions (login required)