Vannan, Alastair and Schofield, Peter (2012) Windermere Reflections Survey of Woodlands Around Windermere. Community Archaeology Survey Report. Project Report. Oxford Archaeology North. (Unpublished)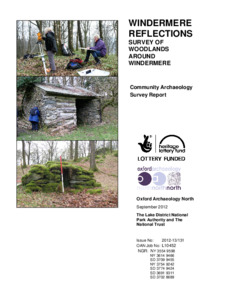 Preview
PDF




L10452_Woodlands_Report_text_all.pdf


Download (15MB) | Preview
Abstract
Oxford Archaeology North (OA North) was invited by the Lake District National Park Authority (LDNPA) and The National Trust to facilitate and provide supervision for a
community archaeology project to undertake archaeological surveys of woodland around Windermere. This project was undertaken on behalf of the Lake District National Park
Authority and financed by the Heritage Lottery Fund.
This is one of three community survey projects being undertaken as part of the Reflections on History project, which is part of the larger Windermere Catchment Restoration
Program. The present study was intended to develop the woodland theme that was outlined in the archaeological resource assessment of the Windermere Reflections study area
prepared by OA North in 2010, as Stage 1 of the Reflections on History project. It looked at areas of broad-leaf, semi-natural woodlands that have not been previously surveyed.
Following the resource assessment, OA North undertook a desk-top historical survey of information pertinent to a selection of woodlands from the Windermere catchment. Seven
woodlands with potential for surviving visible remains relating to woodland industry were selected to be subject to Level 1 identification survey. In total 456 sites were identified within the woodlands, with four of these having been previously identified within the HER and one (Pennington Tower Folly; SMK 2009, LB 1225215) designated as a listed building.
Actions (login required)