Miller, Ian (2012) Tottington Print works, Tottington, Bury, greater Manchester. archaeological investigation. Project Report. Oxford Archaeology North. (Unpublished)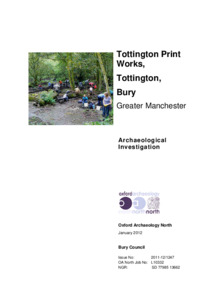 Preview
PDF




Tottington Print Works Report.pdf


Download (17MB) | Preview
Abstract
In February 2011, Oxford Archaeology North (OA North) was commissioned by Bury Council to carry out historical research and an archaeological survey of Tottington Mill, a former industrial site in the Kirklees Valley near Tottington, Bury (centred on NGR SD 77985 13662). The work was prompted by the Environment Agency, which is required by a European directive to 'naturalise' watercourses by removing manmade obstructions wherever possible. One such obstruction has been identified in the Kirklees Valley, where the flow of the Kirklees Brook is impeded as it passes through a stone-built culvert at the site of Tottington Mill.
The site of Tottington Mill is of considerable historical and archaeological interest, having been used since at least the thirteenth century by water-powered industries. A
corn mill at Tottington is referred to in documents dating back to 1296, and whilst the precise location of this mill remains uncertain, it is likely to have stood within the
present study area. In 1790, a four-storey cotton-spinning mill was erected on the site, which remained in operation until c 1819. In 1820, the site was purchased by Joshua
Knowles, and converted for use as a calico-printing works. The business passed to Samuel Knowles in 1854, and amalgamated with the Calico Printers' Association in
1899, but remained in operation as a textile-printing works until 1927. The majority of the buildings were demolished during the early 1930s, although the engravers' shop continued in use until the 1940s, after which it was demolished.
Actions (login required)