Bashford, Robin and Pickard, Chris and Forde, Deirdre Tinbergen Building, South Parks Road, Oxford. [Client Report] (Unpublished)

PDF
OXTINB15_Report.pdf
Download (2MB)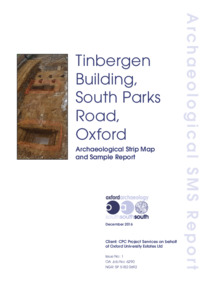 Preview
PDF




OXTINB16.pdf


Download (4MB) | Preview

PDF
OXTINB19_Report.pdf
Download (6MB)
Abstract
In November 2015 Oxford Archaeology (OA) carried out an archaeological evaluation at Tinbergen Building on South Parks Road Oxford. OA were appointed for the project by CPC Project Services on behalf of Oxford University Estates. The
investigation was in relation to a proposed development on the site.
One trench revealed apparently re-deposited natural strata, which was cut into by a pit containing a 17th century claypipe. The potential for the site had been identified
as the possible presence of prehistoric and Civil War remains. The feature and deposits recorded on the site maybe associated with the Civil War earthworks known to be this general area from historic map sources, however the exact nature of the remains was not clarified within the confines of the trenches
In April 2016, Oxford Archaeology (OA) undertook an archaeological strip, map and sample within the footprint of an extension to the Tinbergen Building, South Parks
Road, Oxford. The works were followed by a watching brief on associated groundworks undertaken between May and August 2016. An evaluation of the site had previously been undertaken by OA in 2015.
The works revealed a roughly north-west/south-east aligned ditch in the western half of the site, and a configuration of pits to the east on the same alignment.
Although the fills of the ditch did not produce any datable artefactual material, it is almost certain that it is associated with the Civil War defensive circuit, as
contemporary cartographic sources indicate a bastion in the vicinity of the Tinbergen Building.
The fills of the pits did produce 17th century finds, including a Charles I Rose farthing minted between 1636 and 1644, and a horse burial complete with shoes,
the form of which suggest a late 17th or even 18th century date. Consequently, the pits are likely to represent pitfalls providing an additional line of defence outside the
main circuit. The fact that the ditch was relatively shallow in comparison to other excavated segments of the defences may indicate a degree of truncation has occurred, possibly during the construction of the Tinbergen Building in the 1960s.
Oxford Archaeology was commissioned by Savills on behalf of Oxford University to carry out a historic buildings investigation and recording of the Tinbergen Building, or the Department of Zoology and the Department of
Experimental Psychology, in Oxford Science Area prior to its demolition.
The Tinbergen Building was designed by the influential English architect, Sir Leslie Martin, in 1965 and was completed in 1971. It is an example of the
architectural style known as Brutalism, which was popular throughout the 1950s, 60s, and 70s, and characterises many 20th-century university campuses. It housed the Department of Zoology and the Department of Experimental Psychology until its closure due to the presence of asbestos in 2017. It is a large, sprawling building, located on the corner of South Parks Road and St Cross Road, and it is five storeys at its highest points. It features many of the typical characteristics of Brutalism, such as raw shuttered
concrete and glass surfaces over geometric architectural forms, efficiency and economy in the arrangement of its spaces, and it is massive in size.
At the time of survey, much of the internal partitioning of the building had been removed, and areas were inaccessible due to the presence of asbestos. The building was subject to an external photographic survey and a partial
internal photographic survey. The Tinbergen Building is not listed but it is considered to be a Heritage Asset
and is a part of the Central Conservation Area of Oxford city and university.
Actions (login required)