Webster, Michael (2017) Fordham Primary School, Isleham Road, Fordham, Cambridgeshire: PXA and UPD. [Client Report] (Unpublished)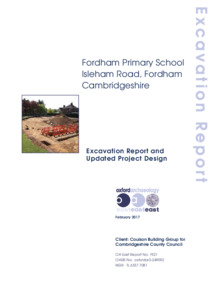 Preview
PDF




Report 1921_LR.pdf


Available under License Creative Commons Attribution Share Alike.
Download (1MB) | Preview
Abstract
Between the 26th April and 13th May 2016 Oxford Archaeology East carried out an Archaeological Excavation at Fordham Primary School, Fordham Cambridgeshire. The excavation covered a total area of 740 square metres
The excavation revealed activity of Late Saxon to post medieval/modern date. Late Saxon activity was represented by boundary ditches, which had also been found during an earlier excavation (Connor 2000) and implies a planned landscape. A Sunken Featured Building and associated pits and post holes together with evidence for mixed livestock farming were key features of this period.
Evidence for similar activity continued into the early medieval period when the presence of small scale metal working together with an assemblage of knives suggests some specialist craft working was also taking place on the site. Features of medieval date included post holes and pits.
The later medieval features consisted largely of pits, but of interest was an annular ditch that may have functioned as an animal pen or hayrick. Additionally a change was noted from the mixed livestock base of earlier periods to an apparently more specialised farming regime based largely on cattle.
Item Type:
Client Report
Uncontrolled Keywords:
Excavation, excavation, archaeological excavation, Cambridgeshire, cambridgeshire, Fordham, fordham, Saxon, saxon, Late Saxon, late saxon, Early medieval, early medieval, ditch, ditches, sunken featured building, Sunken Featured Building, SFB, sfb, grub hut, grubenhaus, Grubenhaus, pit, pits, post hole, post holes, posthole, postholes, farming, agriculture, livestock, metalworking, Medieval, medieval, hayrick, fence line, fenceline, animal remains, animal bone, bone, animal bones, quarry pit, quarry pits, coin, roman coin, Roman coin, Constantine 1, constantine, Constantine, knife, nail, worked stone, lava stone, vitrified hearth lining, Metalworking Debris, metalworking debris, MWD, mwd, fired clay, CBM, cbm, Ceramic Building Material, ceramic building material, pottery, ceramic, sherd, Medieval pottery, medieval pottery, early medieval pottery, Early Medieval pottery, Post-medieval pottery, post-medieval, Post-Medieval, post medieval, Post Medieval, Ely ware, ely ware, Ely Ware, Hedingham Glazed Ware, Hedingham glazed ware, hedingham glazed ware, Hedingham Coarse Ware, Hedingham course ware, hedingham coarse ware, 1921, report 1921, Report 1921, OAE report 1921
Subjects:
Geographical Areas > English Counties > Cambridgeshire
Period > UK Periods > Early Medieval 410 - 1066 AD
Period > UK Periods > Medieval 1066 - 1540 AD
Period > UK Periods > Post Medieval 1540 - 1901 AD
Divisions:
Oxford Archaeology East
Depositing User:

Hamilton

Date Deposited:
08 Feb 2019 08:57
Last Modified:
08 Feb 2019 08:57
URI:
http://eprints.oxfordarchaeology.com/id/eprint/4660
Actions (login required)