Ladd, Stuart (2018) Land west of Ixworth Road, Thurston, Suffolk. [Client Report] (Unpublished)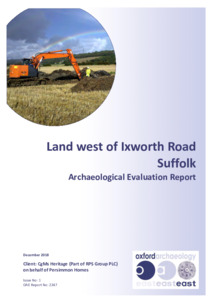 Preview
PDF




XSFIRT18_Report_2247_LR.pdf


Available under License Creative Commons Attribution Share Alike.
Download (7MB) | Preview
Abstract
Between 24th September and 3rd October 2018, a team from Oxford Archaeology East undertook an archaeological evaluation on land west of Ixworth Road, Thurston (TL 9171 6591). In total 67 trenches were opened, most of which were 30m in length, totalling 0.36ha (c. 4.4% of the 8.3ha study area).
Few archaeological features were found. An Early Neolithic pit containing 102 sherds of struck flints and a single sherd of pottery was uncovered in the north of the site. Adjacent to this was a second, undated but potentially related pit. Residual flints were found across the site.
A pair of road-side ditches marking Peddars Way, the Roman Road linking Chelmsford to Ixworth, were found in the south-west of the site. These were clearly visible, albeit intermittent, on the results of a geophysical survey of the area and appeared in two of the four trenches that were sited to intersect with them. A single iron nail was found in one of the ditches. There was no sign of nearby associated settlement.
Post-medieval quarry pits, some shown on 19th and 20th century Ordnance Survey maps, were present in the south of the field. One had been back-filled in the late 20th century. A field boundary ditch, probably filled in during the 20th century, was found in the north of the site.
Environmental preservation was poor and no bone was recovered.
Item Type:
Client Report
Uncontrolled Keywords:
Evaluation, evaluation, archaeological evaluation, Suffolk, suffolk, Thurston, thurston, Neolithic, neolithic, pottery, ceramic, sherd, neolithic pottery, Neolithic pottery, pit, nail, Roman, roman, Roman nail, roman nail, ditch, dithces, Peddars Way, Peddar's Way, peddars way, peddar's way, roman road, post-medieval, post medieval, Post-Medieval, Post Medieval, quarry, quarrying, quarry pit, quarry pits, ditch, field boundary, 2247, report 2247, Report 2247, OAE report 2247
Subjects:
Geographical Areas > English Counties > Suffolk
Period > UK Periods > Neolithic 4000 - 2200 BC
Period > UK Periods > Post Medieval 1540 - 1901 AD
Period > UK Periods > Roman 43 - 410 AD
Divisions:
Oxford Archaeology East
Depositing User:

Hamilton

Date Deposited:
08 Feb 2019 10:44
Last Modified:
08 Feb 2019 10:44
URI:
http://eprints.oxfordarchaeology.com/id/eprint/4661
Actions (login required)