Simmonds, Andrew Spring Lane, Radford Semele, Warwickshire. [Client Report] (Unpublished)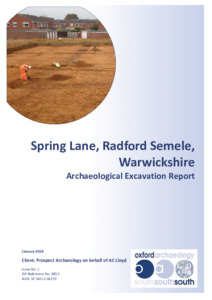 Preview
PDF




RASL17_report_pdfa.pdf


Download (3MB) | Preview
Abstract
Oxford Archaeology undertook an archaeological excavation on the site of a
proposed residential development at Spring Lane, Radford Semele,
Warwickshire for Prospect Archaeology Ltd on behalf of AC Lloyd. The work
was undertaken as a condition of Planning Permission (planning ref:
APP/T3725/A/14/2221858).
The excavation uncovered part of a ditched boundary aligned N-S, with a
return on the east side and an entrance, confirming the results of a previous
geophysical survey. The features are likely to form part of a field system dating
from the late Iron Age/Roman period, probably associated with an
unidentified settlement located somewhere in the vicinity. The paucity of
artefactual evidence suggests that the settlement was not particularly close.
Actions (login required)